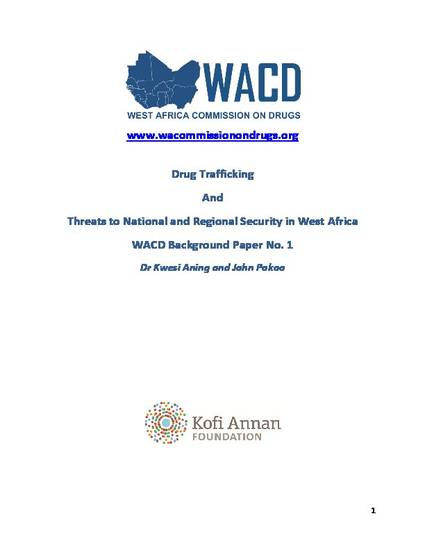 Presentation
Drug Trafficking And Threats to National and Regional Security in West Africa
West Africa Commission on Drugs (2013)
Abstract
In less than one and a half decades West Africa has become a major transit and repackaging hub for cocaine and heroin flowing from the Latin American and Asian producing areas to European markets. Drug trafficking is not new to the region; the phenomenon rapidly expanded in the mid-2000s as a result of a strategic shift of Latin American drug syndicates towards the rapidly growing European market, leading UNODC to state in 2008 that "…the crisis of drug trafficking … is gaining attention. Alarm bells are ringing …West Africa has become a hub for cocaine trafficking. This is more than a drugs problem. It is a serious security threat." This background paper examines the impact of drug trafficking on national and regional security in West Africa. The first sections provide an overview of the main security threats that drug trafficking is perceived to pose to states and the sub-region, including the links between drug trafficking and terrorism. Subsequently, the paper provides an overview of how the incidence of drug trafficking and perceived threats are being articulated in policy circles; and the nature of UN, AU and ECOWAS policy responses to drug trafficking and the security threats it poses. In the final section, the paper identifies knowledge gaps in the existing literature on drug trafficking in West Africa.
Keywords
drug trafficking,
national security,
west africa,
public policy
Publication Date
January 31, 2013
Citation Information
Emmanuel Kwesi Aning and John Pokoo. "Drug Trafficking And Threats to National and Regional Security in West Africa"
West Africa Commission on Drugs
(2013)
Available at: http://works.bepress.com/kwesi_aning/2/