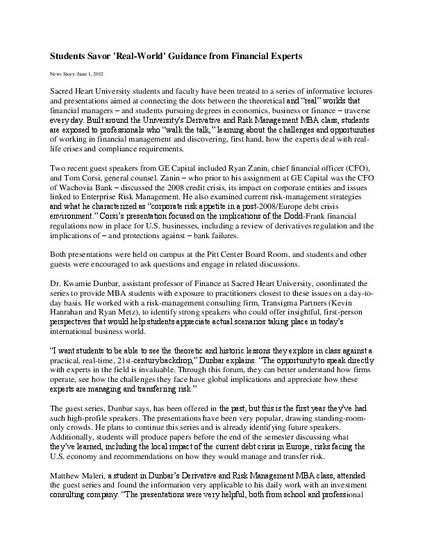 Popular Press
Students Savor 'Real-World' Guidance from Financial Experts
Sacred Heart University News Story (2012)
Abstract
Sacred Heart University students and faculty have been treated to a series of informative lectures and presentations aimed at connecting the dots between the theoretical and "real" worlds that financial managers – and students pursuing degrees in economics, business or finance – traverse every day. Built around the University's Derivative and Risk Management MBA class, students are exposed to professionals who "walk the talk," learning about the challenges and opportunities of working in financial management and discovering, first hand, how the experts deal with real-life crises and compliance requirements. Dr. Kwamie Dunbar, assistant professor of Finance at Sacred Heart University, coordinated the series to provide MBA students with exposure to practitioners closest to these issues on a day-to-day basis.
Keywords
Economics education,
Finance education,
Business education
Publication Date
June 1, 2012
Citation Information
Kwamie Dunbar. "Students Savor 'Real-World' Guidance from Financial Experts"
Sacred Heart University News Story
(2012)
Available at: http://works.bepress.com/kwamie_dunbar/16/