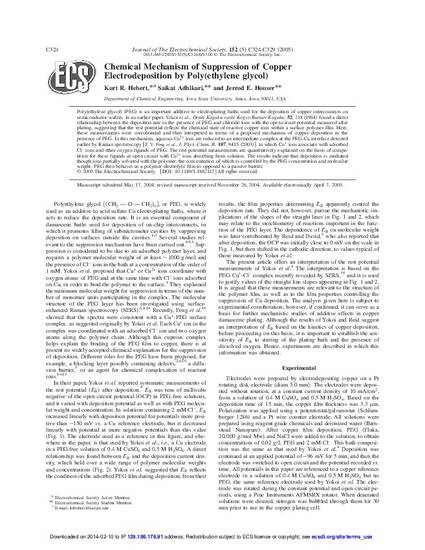 Article
Chemical Mechanism of Suppression of Copper Electrodeposition by Poly(ethylene glycol)
Journal of the Electrochemical Society
Publication Date
1-1-2005
Abstract
Poly(ethylene glycol) (PEG) is an important additive to electroplating baths used for the deposition of copper interconnects on semiconductor wafers. In an earlier paper, Yokoi et al. , Denki Kagaku oyobi Kogyo Butsuri Kagaku , 52 , 218 (1984) found a direct relationship between the deposition rate in the presence of PEG and chloride ions with the open-circuit potential measured after plating, suggesting that the rest potential reflects the chemical state of reactive copper ions within a surface polymer film. Here, these measurements were corroborated and then interpreted in terms of a proposed mechanism of copper deposition in the presence of PEG. In this mechanism, aqueous Cu2+ions are reduced to an intermediate complex at the PEG-Cu interface detected earlier by Raman spectroscopy [ Z. V. Feng et al. , J. Phys. Chem. B , 107 , 9415 (2003) ], in which Cu+ ions associate with adsorbed Cl− ions and ether oxygen ligands of PEG. The rest potential measurements are quantitatively explained on the basis of competition for these ligands at open circuit with Cu2+ ions absorbing from solution. The results indicate that deposition is mediated though ions partially solvated with the polymer, the concentration of which is controlled by the PEG concentration and molecular weight. PEG then behaves as a polymer electrolyte film as opposed to a passive barrier.
Copyright Owner
ECS—The Electrochemical Society
File Format
application/pdf
Citation Information
Kurt R. Hebert, Saikat Adhikari and Jerrod E. Houser. "Chemical Mechanism of Suppression of Copper Electrodeposition by Poly(ethylene glycol)"
Journal of the Electrochemical Society
Vol. 152 Iss. 5 (2005) p. C324 - C329
Available at: http://works.bepress.com/kurtr_hebert/5/