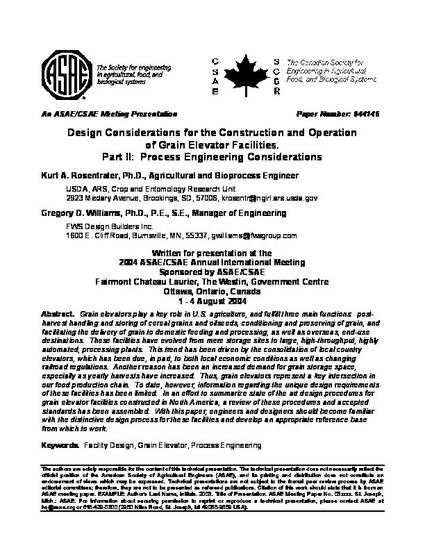 Presentation
Design Considerations for the Construction and Operation of Grain Elevator Facilities. Part II: Process Engineering Considerations
2004 ASAE/CSAE Annual International Meeting (2004)
Abstract
Grain elevators play a key role in U.S. agriculture, and fulfill three main functions: post-harvest handling and storing of cereal grains and oilseeds, conditioning and preserving of grain, and facilitating the delivery of grain to domestic feeding and processing, as well as overseas, end-use destinations. These facilities have evolved from mere storage sites to large, high-throughput, highly automated, processing plants. This trend has been driven by the consolidation of local country elevators, which has been due, in part, to both local economic conditions as well as changing railroad regulations. Another reason has been an increased demand for grain storage space, especially as yearly harvests have increased. Thus, grain elevators represent a key intersection in our food production chain. To date, however, information regarding the unique design requirements of these facilities has been limited. In an effort to summarize state of the art design procedures for grain elevator facilities constructed in North America, a review of these procedures and accepted standards has been assembled. With this paper, engineers and designers should become familiar with the distinctive design process for these facilities and develop an appropriate reference base from which to work.
Keywords
Facility Design,
Grain Elevator,
Process Engineering
Publication Date
August, 2004
Citation Information
Kurt A. Rosentrater and Gregory D. Williams. "Design Considerations for the Construction and Operation of Grain Elevator Facilities. Part II: Process Engineering Considerations"
2004 ASAE/CSAE Annual International Meeting
(2004)
Available at: http://works.bepress.com/kurt_rosentrater/47/