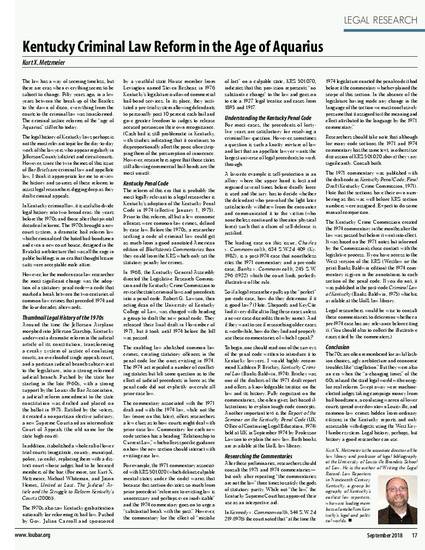 Popular Press
Kentucky Criminal Law Reform in the Age of Aquarius
Louisville Bar Association Bar Briefs (2018)
Abstract
In Kentucky criminal law, it is useful to divide legal history into two broad eras: the years before the 1970s and those after that pivotal decade of reforms. The 1970s brought a new court system, a dramatic bail reform law which criminalized the hated bail-bondsmen and even a new court house. However, for the modern case law researcher the most significant change was the adoption of a statutory penal code—a code that marked a break between the two centuries of common-law crimes that preceded 1974 and the four decades afterwards.
Keywords
Kentucky legal history criminal law penal code
Publication Date
September, 2018
Citation Information
Kurt X. Metzmeier. "Kentucky Criminal Law Reform in the Age of Aquarius"
Louisville Bar Association Bar Briefs
(2018)
Available at: http://works.bepress.com/kurt_metzmeier/28/