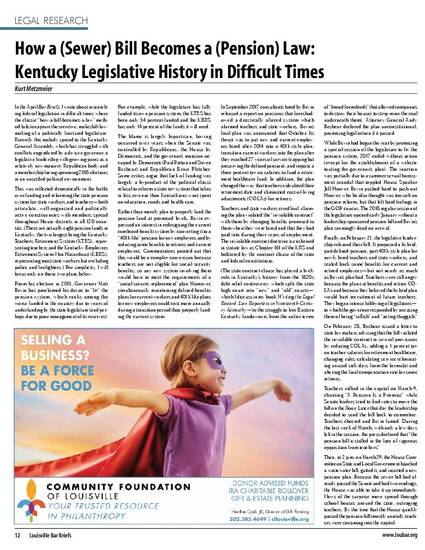 Popular Press
How a (Sewer) Bill Becomes a (Pension) Law: Kentucky Legislative History in Difficult Times (July 2018)
Louisville Bar Association Bar Briefs (2018)
Abstract
Researching state legislation in difficult times where the classic "how-a-bill-becomes-a-law" method fails to capture the secretive, makeshift lawmaking of a politically fractured legislature is a problem for even the most seasoned legal researcher. This article uses the Kentucky pension law reform bill to point out a few techniques a researcher can use to create a useful legislative research dossier.
Keywords
Kentucky legislative history statutes legislation
Publication Date
July, 2018
Citation Information
Kurt X. Metzmeier. "How a (Sewer) Bill Becomes a (Pension) Law: Kentucky Legislative History in Difficult Times (July 2018)"
Louisville Bar Association Bar Briefs
(2018)
Available at: http://works.bepress.com/kurt_metzmeier/23/