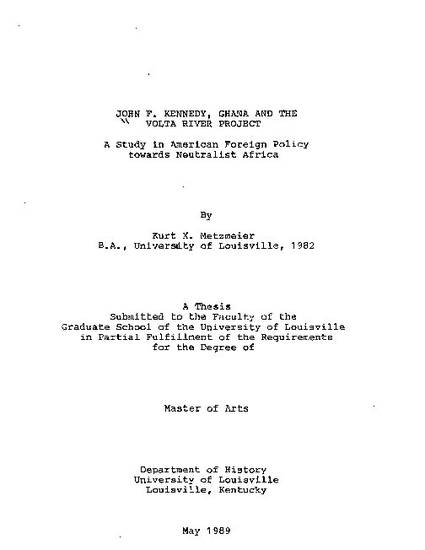 Thesis
John F. Kennedy, Ghana and the Volta River project : a study in American foreign policy towards neutralist Africa.
Electronic Theses and Dissertations
Date on Master's Thesis/Doctoral Dissertation
5-1989
Document Type
Master's Thesis
Committee Chair
Broadhead, Susan H. (Susan Herlin), 1939-
Subject
Kennedy, John F. (John Fitzgerald), 1917-1963; Nkrumah, Kwame, 1909-1972; United States--Foreign relations--Ghana; Ghana--Foreign relations--United States; Volta River (Ghana)
Abstract
The emergence of an independent neutralist Africa changed the dynamics of the cold war. The military-strategic orientation of the United States and Soviet Union had little relevance to underdeveloped Africa. Following the death of Joseph Stalin, the USSR began to discard the ideological impediments which had hampered their relations with neutralist Africa, but the United States under the Eisenhower Administration continued to oppose the neutralist doctrine. John F. Kennedy came to office determined to bring a new dynamism to United States foreign policy towards Africa. He declared a new tolerance of neutralism. The decision whether to give foreign aid to Kwame Nkrumah's Volta River project became a test case for the Kennedy administration's new policy toward the neutralist states of Africa. The decision to support the project was a concrete manifestation of that policy. For Kennedy's purposes, it mattered little whether the project failed or succeeded. What was important was that the United States was visibly competing for the trust of neutralist Africa.
Citation Information
Kurt X. Metzmeier. "John F. Kennedy, Ghana and the Volta River project : a study in American foreign policy towards neutralist Africa." (1989)
Available at: http://works.bepress.com/kurt_metzmeier/20/