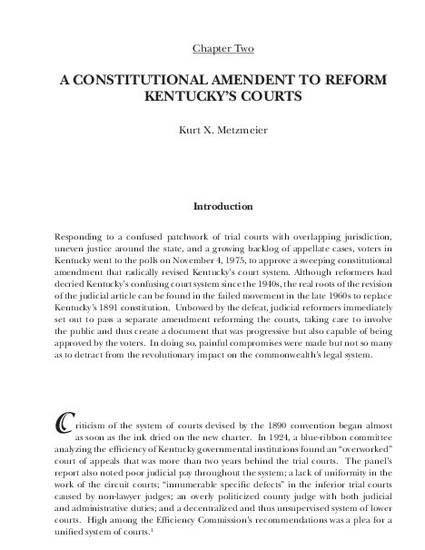 Contribution to Book
A Constitutional Amendment to Reform Kentucky's Courts
United At Last: The Judicial Article and the Struggle to Reform Kentucky's Courts (2006)
Abstract
Responding to a confused patchwork of trial courts with overlapping jurisdiction, uneven justice around the state, and a growing backlog of appellate cases, voters in Kentucky went to the polls on November 4, 1975, to approve a sweeping constitutional amendment that radically revised Kentucky's court system. Although reformers had decried Kentucky's confusing court system since the 1940s, the real roots of the revision of the judicial article can be found in the failed movement in the late 1960s to replace Kentucky's 1891 constitution. Unbowed by the defeat, judicial reformers immediately set out to pass a separate amendment reforming the courts, taking care to involve the public and thus create a document that was progressive but also capable of being approved by the voters. In doing so, painful compromises were made but not so many as to detract from the revolutionary impact on the commonwealth's legal system.
Keywords
Kentucky,
constitution,
legal history,
courts
Publication Date
December, 2006
Publisher
Kentucky Court of Justice
Citation Information
Kurt X. Metzmeier. "A Constitutional Amendment to Reform Kentucky's Courts" Frankfort, Ky.
United At Last: The Judicial Article and the Struggle to Reform Kentucky's Courts
(2006)
Available at: http://works.bepress.com/kurt_metzmeier/15/