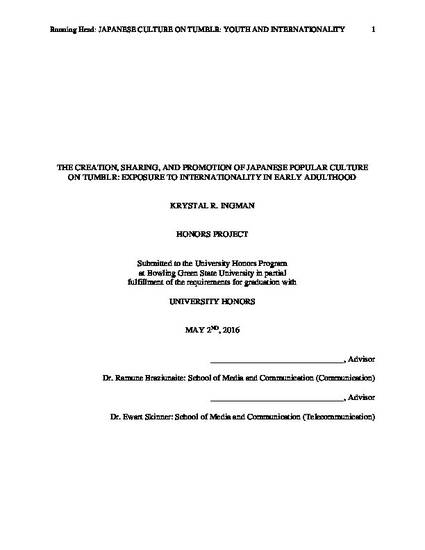 Unpublished Paper
The Creation, Sharing, and Promotion of Japanese Popular Culture on Tumblr: Exposure to Internationality in Early Adulthood
Communication and Social Media (2016)
Abstract
New media technologies enable people all around the globe to be exposed to a larger variety of cultural products. Social media networking and blogging sites like Facebook, YouTube, Twitter, WordPress and Tumblr, have offered users easy access to media from different cultures. Images and symbols inspired by Japanese culture is just one example of cultural products that are gaining popularity among the Internet users. This research presents a study of people who regularly create, share, comment or otherwise engage with the cultural products related to Japanese media and entertainment such as
anime
,
manga
, and other art on the micro blogging site of Tumblr. Generally, the users who are interested in engaging with such content are young people all around the globe. It can be argued they are part of growing "global youth culture." The goal of this study is to examine what kinds of Japanese inspired digital texts and symbols are being created and shared by this kind of user and to examine in what ways this kind of media is contributing to constructing a shared sense of belonging to global youth culture and articulating their identities. This research's findings suggest that regular exposure to content from other cultures may have a positive effect on young people's interest in different cultures and thus form more fluid cultural identities that are open to global collaboration and cooperation.
Keywords
Japan,
communication,
social media,
Tumblr,
intercultural communication
Publication Date
Spring May 2, 2016
Citation Information
Krys Ingman. "The Creation, Sharing, and Promotion of Japanese Popular Culture on Tumblr: Exposure to Internationality in Early Adulthood"
Communication and Social Media
(2016)
Available at: http://works.bepress.com/krys/3/