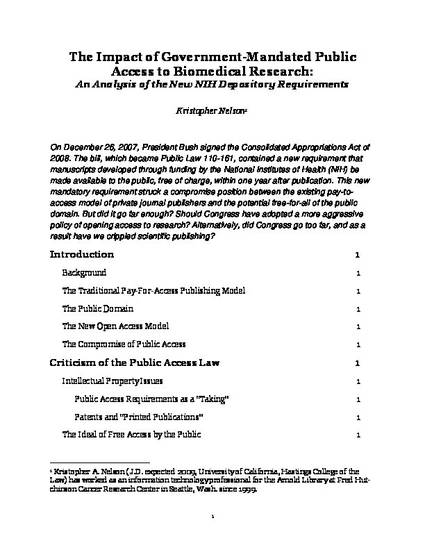 Unpublished Paper
The Impact of Government-Mandated Public Access to Biomedical Research: An Analysis of the New NIH Depository Requirements
ExpressO (2008)
Abstract
On December 26, 2007, President Bush signed the Consolidated Appropriations Act of 2008. The bill, which became Public Law 110-161, contained a new requirement that manuscripts developed through funding by the National Institutes of Health (NIH) be made available to the public, free of charge, within one year after publication. This new mandatory requirement struck a compromise position between the existing pay-to-access model of private journal publishers and the potential free-for-all of the public domain. But did it go far enough? Should Congress have adopted a more aggressive policy of opening access to research? Alternatively, did Congress go too far, and as a result have we crippled scientific publishing?
Publication Date
September 9, 2008
Citation Information
Kristopher A Nelson. "The Impact of Government-Mandated Public Access to Biomedical Research: An Analysis of the New NIH Depository Requirements"
ExpressO
(2008)
Available at: http://works.bepress.com/kristopher_nelson/1/