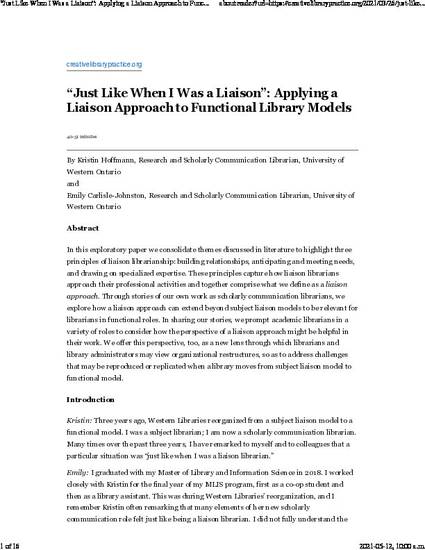 Article
"Just Like When I Was a Liaison": Applying a Liaison Approach to Functional Library Models
The Journal of Creative Library Practice
Publication Date
3-26-2021
URL with Digital Object Identifier
https://creativelibrarypractice.org/2021/03/26/just-like-when-i-was-a-liaison-applying-a-liaison-approach-to-functional-library-models/
Abstract
In this exploratory paper we consolidate themes discussed in literature to highlight three principles of liaison librarianship: building relationships, anticipating and meeting needs, and drawing on specialized expertise. These principles capture how liaison librarians approach their professional activities and together comprise what we define as a liaison approach. Through stories of our own work as scholarly communication librarians, we explore how a liaison approach can extend beyond subject liaison models to be relevant for librarians in functional roles. In sharing our stories, we prompt academic librarians in a variety of roles to consider how the perspective of a liaison approach might be helpful in their work. We offer this perspective, too, as a new lens through which librarians and library administrators may view organizational restructures, so as to address challenges that may be reproduced or replicated when a library moves from subject liaison model to functional model.
Creative Commons License
Creative Commons Attribution-Noncommercial 4.0
Citation Information
Kristin Hoffmann and Emily Carlisle-Johnston. ""Just Like When I Was a Liaison": Applying a Liaison Approach to Functional Library Models"
The Journal of Creative Library Practice
(2021)
Available at: http://works.bepress.com/kristinhoffmann/29/