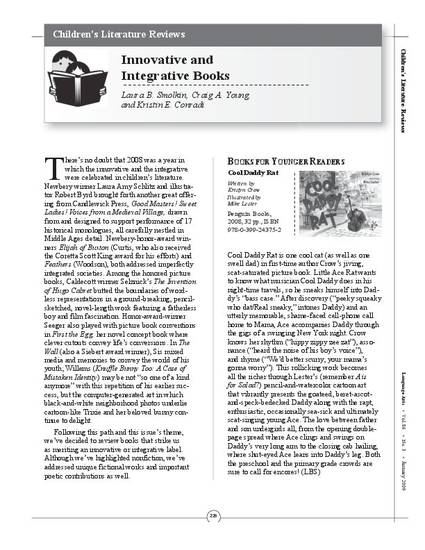 Article
Children's Literature Reviews: Innovative and integrative books
Language Arts
Department/Program
Education
Publication Date
1-1-2009
Abstract
The authors explore innovative and integrative books of children's literature from 2008. Titles reviewed include: Cool Daddy Rat by Kristyn Crow; The Blacker the Berry by Joyce Carol Thomas; How I Learned Geography by Uri Shulevitz; Tin Lizzie by Allan Drummond; The Black Book of Colors by Menena Cottin; Naming Liberty by Jane Yolen; Duel! Burr and Hamilton's Deadly War of Words by Dennis Brindell Fradin; Boys of Steel by Marc Tyler Nobleman; The Willoughbys by Lois Lowry; Lady Liberty: A Biography by Doreen Rappaport; Eleven: A Mystery by Patricia Reilly Giff; The London Eye Mystery by Siobahn Dowd; Click: One Novel Ten Authors by David Almond, Eoin Colfer, Roddy Doyle, Deborah Ellis, Nick Nornby, Margo Lanagan, Gergory Maguird, Ruth Ozeki, Linda Sue Park, and Tim Wynne; Ain't Nothing but a Man: My Quest to Find the Real John Henry by Scott Reynolds Nelson and Marc Aronson; and The Disreputable History of Frankie Landau-Banks by E. Lockhart.
Publication Statement
Copyright 2009 by the National Council of Teachers of English
Citation Information
Kristin Conradi, Laura B Smolkin and Craig A Young. "Children's Literature Reviews: Innovative and integrative books"
Language Arts
Vol. 86 Iss. 3 (2009) p. 225 - 231
Available at: http://works.bepress.com/kristinconradi/1/