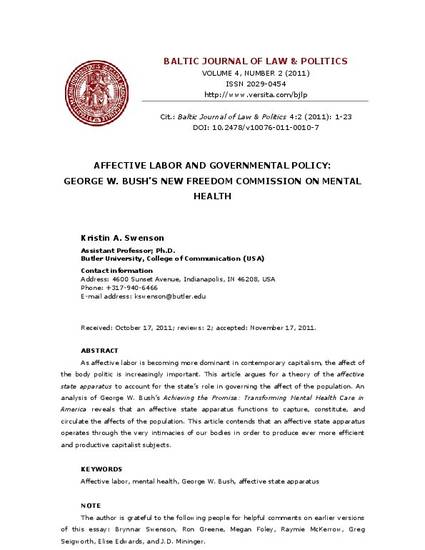 Article
Affective Labor and Governmental Policy: George W. Bush's New Freedom Commission on Mental Health
Baltic Journal of Law & Politics
Publication Date
1-1-2011
DOI
http://dx.doi.org/10.2478/v10076-011-0010-7
Abstract
As affective labor is becoming more dominant in contemporary capitalism, the affect of the body politic is increasingly important. This article argues for a theory of the affective state apparatus to account for the state"s role in governing the affect of the population. An analysis of George W. Bush"s Achieving the Promise: Transforming Mental Health Care in America reveals that an affective state apparatus functions to capture, constitute, and circulate the affects of the population. This article contends that an affective state apparatus operates through the very intimacies of our bodies in order to produce ever more efficient and productive capitalist subjects.
Rights
Originally published by DeGruyter in Baltic Journal of Law & Politics, 2011, Volume 4, Issue 2. DOI: 10.2478/v10076-011-0010-7. Non-commercial use and distribution in any medium is permitted, provided the author and the journal are properly credited.
Citation Information
Kristin A. Swenson. "Affective Labor and Governmental Policy: George W. Bush's New Freedom Commission on Mental Health"
Baltic Journal of Law & Politics
Vol. 4 Iss. 2 (2011) p. 1 - 23
Available at: http://works.bepress.com/kristin-swenson/1/