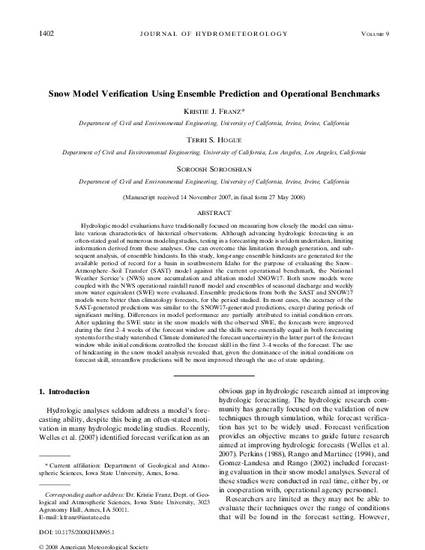 Article
Snow Model Verification Using Ensemble Prediction and Operational Benchmarks
Journal of Hydrometeorology (2008)
Abstract
Snow density is calculated as a ratio of snow water equivalent to snow depth. Until the late 1990s, there were no continuous simultaneous measurements of snow water equivalent and snow depth covering large areas. Because of that, spatiotemporal characteristics of snowpack density could not be well described. Since then, the Natural Resources Conservation Service (NRCS) has been collecting both types of data daily throughout the winter season at snowpack telemetry (SNOTEL) sites located in the mountainous areas of the western United States. This new dataset provided an opportunity to examine the spatiotemporal characteristics of snowpack density.
The analysis of approximately seven years of data showed that at a given location and throughout the winter season, year-to-year snowpack density changes are significantly smaller than corresponding snow depth and snow water equivalent changes. As a result, reliable climatological estimates of snow density could be obtained from relatively short records. Snow density magnitudes and densification rates (i.e., rates at which snow densities change in time) were found to be location dependent. During early and midwinter, the densification rate is correlated with density. Starting in early or mid-March, however, snowpack density increases by approximately 2.0 kg m−3 day−1 regardless of location. Cluster analysis was used to obtain qualitative information on spatial patterns of snowpack density and densification rates. Four clusters were identified, each with a distinct density magnitude and densification rate. The most significant physiographic factor that discriminates between clusters was proximity to a large water body. Within individual mountain ranges, snowpack density characteristics were primarily dependent on elevation.
Keywords
Snow,
Snowpack,
North America,
In situ observations,
Climatology
Publication Date
December, 2008
Citation Information
Kristie J. Franz, Terri S. Hogue and Soroosh Sorooshian. "Snow Model Verification Using Ensemble Prediction and Operational Benchmarks"
Journal of Hydrometeorology
Vol. 9 Iss. 6 (2008) p. 1402 - 1415
Available at: http://works.bepress.com/kristie-franz/1/