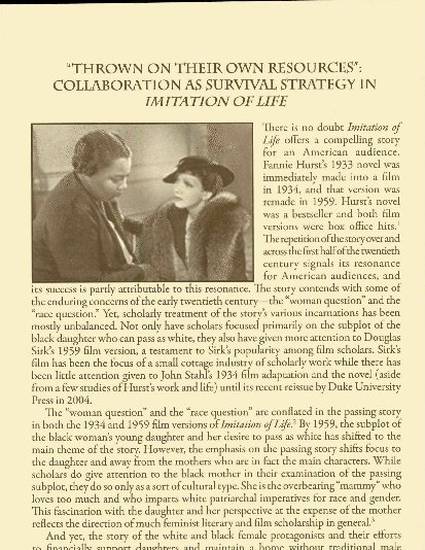 Article
"Thrown on Their Own Resources": Collaboration as Survival in Imitation of Life
Faculty Publications
Publication Date
1-1-2012
Abstract
The article presents an analysis of the film adaptation of "Imitation of Life," a 1933 novel by Fannie Hurst. It states that the repetition of the story across the first half of the twentieth century shows its resonance for U.S. audiences. It mentions that the woman question and the race question are brought together in the passing story in both the 1934 and 1959 film versions of the novel.
Citation Information
"'Thrown on their Own Resources': Collaboration as Survival Strategy in Imitation of Life" by Kristi Branham. Literature/Film Quarterly Volume 40:4 (2012) pp. 258-273.