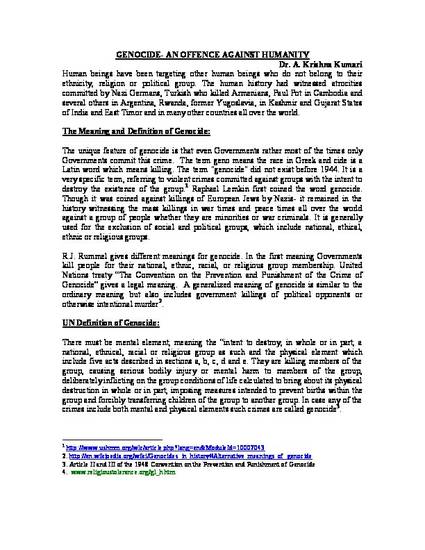 Unpublished Paper
Genocide- An Offence Against Humanity
Working Paper Series (2007)
Abstract
This article gives the definition of the crime in generic terms and in legal terms. A definition by UN insists that there must be mental element, meaning the "intent to destroy, in whole or in part, a national, ethnical, racial or religious group as such and the physical element which include five acts described in sections a, b, c, d and e. They are killing members of the group, causing serious bodily injury or mental harm to members of the group, deliberately inflicting on the group conditions of life calculated to bring about its physical destruction in whole or in part, imposing measures intended to prevent births within the group and forcibly transferring children of the group to another group. History of Genocide since 1915, which was targeted against the Armenians till date, is elaborately discussed along with the establishment of International Criminal Court and its jurisdiction. Ultimately, the author suggests that effective prevention of genocide is possible only with the efforts of international community along with the non-governmental organizations.
Keywords
Genocide,
meaning,
definition,
UN,
History of Genocide,
Democide,
Prevention of Genocide,
International Criminal Court
Publication Date
July, 2007
Citation Information
Krishna Kumari Areti. "Genocide- An Offence Against Humanity"
Working Paper Series
(2007)
Available at: http://works.bepress.com/krishnaareti/2/