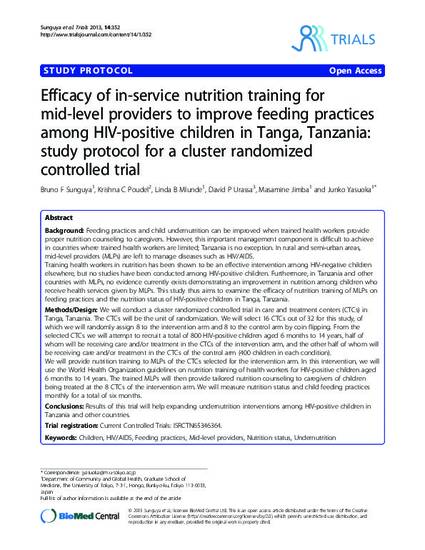 Article
Efficacy of In-service Nutrition Training For Mid-level Providers to Improve Feeding Practices Among Hiv-positive Children in Tanga, Tanzania: Study Protocol for a Cluster Randomized Controlled Trial
Trials Journal (2013)
Abstract
Background: Feeding practices and child undernutrition can be improved when trained health workers provide proper nutrition counseling to caregivers. However, this important management component is difficult to achieve in countries where trained health workers are limited; Tanzania is no exception. In rural and semi-urban areas, mid-level providers (MLPs) are left to manage diseases such as HIV/AIDS. Training health workers in nutrition has been shown to be an effective intervention among HIV-negative children elsewhere, but no studies have been conducted among HIV-positive children. Furthermore, in Tanzania and other countries with MLPs, no evidence currently exists demonstrating an improvement in nutrition among children who receive health services given by MLPs. This study thus aims to examine the efficacy of nutrition training of MLPs on feeding practices and the nutrition status of HIV-positive children in Tanga, Tanzania. Methods/Design: We will conduct a cluster randomized controlled trial in care and treatment centers (CTCs) in Tanga, Tanzania. The CTCs will be the unit of randomization. We will select 16 CTCs out of 32 for this study, of which we will randomly assign 8 to the intervention arm and 8 to the control arm by coin flipping. From the selected CTCs we will attempt to recruit a total of 800 HIV-positive children aged 6 months to 14 years, half of whom will be receiving care and/or treatment in the CTCs of the intervention arm, and the other half of whom will be receiving care and/or treatment in the CTCs of the control arm (400 children in each condition). We will provide nutrition training to MLPs of the CTCs selected for the intervention arm. In this intervention, we will use the World Health Organization guidelines on nutrition training of health workers for HIV-positive children aged 6 months to 14 years. The trained MLPs will then provide tailored nutrition counseling to caregivers of children being treated at the 8 CTCs of the intervention arm. We will measure nutrition status and child feeding practices monthly for a total of six months. Conclusions: Results of this trial will help expanding undernutrition interventions among HIV-positive children in Tanzania and other countries. Trial registration: Current Controlled Trials: ISRCTN65346364.
Keywords
Children,
HIV/AIDS,
Feeding practices,
Mid-level providers,
Nutrition status,
Undernutrition
Publication Date
October 25, 2013
Citation Information
Bruno F Sunguya, Krishna C. Poudel, Linda B Mlunde, David P Urassa, et al.. "Efficacy of In-service Nutrition Training For Mid-level Providers to Improve Feeding Practices Among Hiv-positive Children in Tanga, Tanzania: Study Protocol for a Cluster Randomized Controlled Trial"
Trials Journal
Vol. 14 Iss. 352 (2013)
Available at: http://works.bepress.com/krishna_poudel/19/