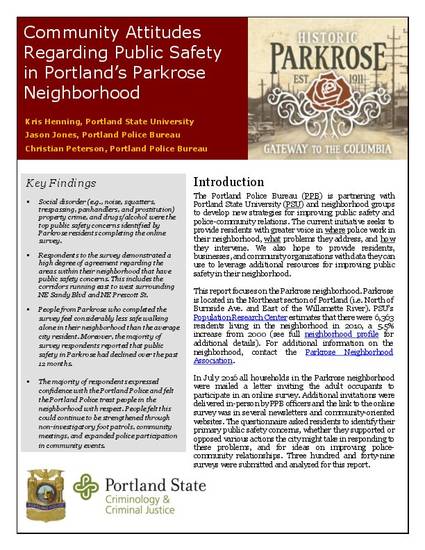 Unpublished Paper
PPB_PSU Public Safety Survey_Parkrose 2016_Final Report.pdf
(2017)
Abstract
The Portland Police Bureau (PPB) has partnered with Portland State University (PSU) to develop new strategies for improving public safety and police-community relations. The initiative seeks to provide residents with greater voice in where police work in their neighborhood and what steps the police take to address public safety concerns. The current report presents the findings from a household survey conducted in Portland's Parkrose neighborhood. Residents' top concerns were social disorder, property crime, and alcohol/drug use. The majority of residents surveyed reported that overall safety in the neighborhood had declined over the past 12 months and a significant proportion (63%) feel unsafe walking alone at night in the area. While most residents have confidence in the Portland Police Bureau, they would like to see more officers on patrol in the neighborhood and have the city hold property owners accountable for maintaining unoccupied or "zombie" homes.
Keywords
Crime,
Police,
Law enforcement,
Public Attitudes,
Public Safety
Publication Date
Winter February 1, 2017
Citation Information
Henning, K., Jason Jones & Christian Peterson (2017). Community attitudes regarding public safety in Portland's Parkrose neighborhood. Criminal Justice Policy and Research Institute, Portland State University.
Creative Commons License
This work is licensed under a Creative Commons CC_BY-NC-ND International License.