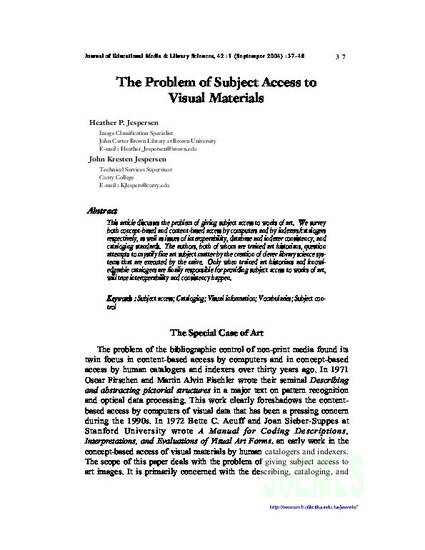 Article
The Problems of Subject Access to Visual Materials
Faculty Publications
Department (Manual Entry)
James P. Adams Library
Abstract
This article discussed the problem of giving subject access to works of art. We survey both concept-based and content-based access by computers and by index/catalogers respectively, as well as issues of interoperability, database and indexer consistency and cataloging standards. The authors, both of whom are trained art historians, question attempts to mystify fine art subject matter by the creation of clever library science systems that are executed by the naive. Only when trained art historians and knowledgeable catalogers are finally responsible for providing subject access to works of art, will true interoperability and consistency happen.
Date of Original Version
9-1-2004
Citation Information
Jespersen, H. & Jespersen, J.K. 2004. The problem of subject access to visual materials.
Journal of Educational Media & Library Sciences, 42
(1), 37-48.