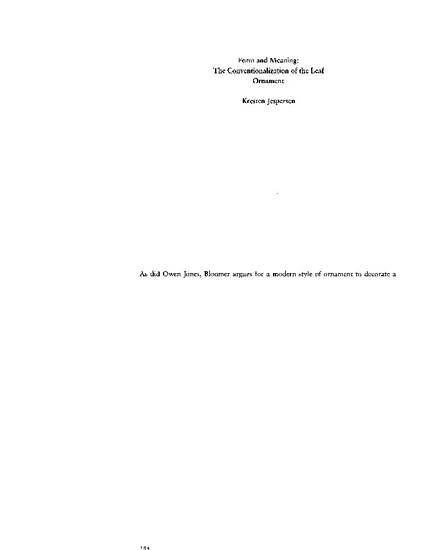 Article
Form and Meaning
Faculty Publications
Subtitle
The Conventionalization of the Leaf Ornament
Date of Original Version
1-1-1987
Abstract
As did Owen Jones, Bloomer argues for a modern style of ornament to decorate a modern architechture. Based on formal laws rather than theories of classical or naturalism imitation, conventionalization can be seen as being explicitly modern. More-over, deriving from the work of ornament, these laws are dependent on intrinsic rather than extrinsic principles.
Creative Commons License
Creative Commons Attribution-Noncommercial-No Derivative Works 4.0
Citation Information
Jespersen, K. (1987). Form and meaning: The conventionalization of the leaf ornament.
Perspecta, 23
, 144-155.