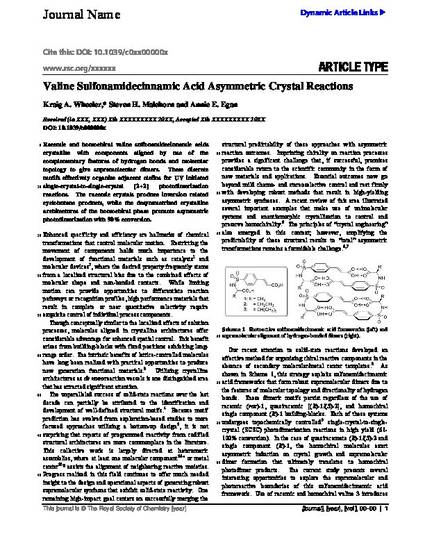 Article
Valine Sulfonamidecinnamic Acid Asymmetric Crystal Reactions
Faculty Research and Creative Activity
Creative Commons License
Creative Commons Attribution-Noncommercial-No Derivative Works 3.0
Publication Date
11-1-2011
Abstract
Racemic and homochiral valine sulfonamidecinnamic acidscrystallize with components aligned by use of thecomplementary features of hydrogen bonds and moleculartopology to give supramolecular dimers. These discretemotifs effectively organize adjacent olefins for UV initiated10 single-crystal-to-single-crystal [2+2] photodimerizationreactions. The racemic crystals produce inversion relatedcyclobutane products, while the desymmetrized crystallinearchitectures of the homochiral phase promote asymmetricphotodimerization with 90% conversion.
Display as Peer Reviewed
Peer-Reviewed
Citation Information
Wheeler, K. A., Malehorn, S. H., & Egan, A. E. (2012). Valine Sulfonamidecinnamic Acid Asymmetric Crystal Reactions. Chemical Communications, 48, 519-521. Available in final form at http://www.rsc.org | doi: 10.1039/C1CC15068E. Reproduced by permission of the Royal Society of Chemistry.