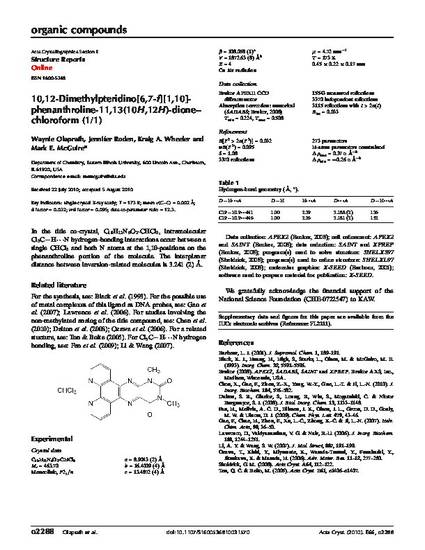 Article
10,12-Dimethylpteridino[6,7-f][1,10]- phenanthroline-11,13(10H,12H)-dione– chloroform (1/1)
Acta Crystallographica Section E (2010)
Abstract
In the title co-crystal, C18H12N6O2_CHCl3, intramolecular Cl3C—H_ _ _N hydrogen-bonding interactions occur between a single CHCl3 and both N atoms at the 1,10-positions on the phenanthroline portion of the molecule. The interplanar distance between inversion-related molecules is 3.241 (2) A ° .
Keywords
single-crystal X-ray study,
T = 173 K,
mean _(C–C) = 0.002 A°,
R factor = 0.032,
wR factor = 0.095,
data-to-parameter ratio = 12.3
Citation Information
Waynie Olaprath, Jennifer Rodin, Kraig A. Wheeler and Mark E. McGuire. "10,12-Dimethylpteridino[6,7-f][1,10]- phenanthroline-11,13(10H,12H)-dione– chloroform (1/1)"
Acta Crystallographica Section E
Vol. E66 Iss. 9 (2010)
Available at: http://works.bepress.com/kraig_wheeler/2/