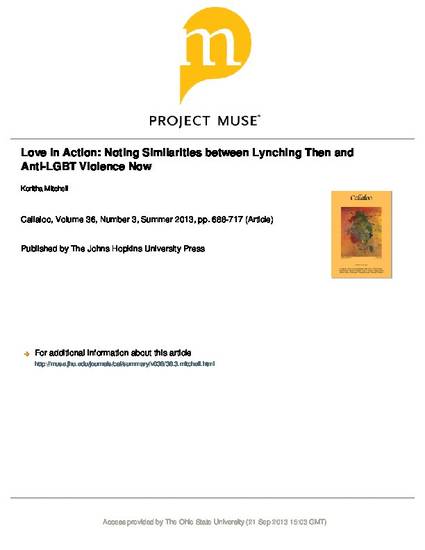 Article
Love in Action: Noting Similarities between Lynching Then & Anti-LGBT Violence Now
Callaloo (2013)
Abstract
The more I learn about the violence currently plaguing LGBT communities, the more it reminds me of the brutal practice of lynching, which has been the focus my research for the past 15 years. Ultimately, both forms of violence are designed to deny targeted groups recognition as citizens. Relying on my expertise regarding racial violence as well as the data on anti-LGBT attacks collected by the National Coalition of Anti-Violence Programs (NCAVP), this essay notes similarities between lynching at the last turn of the century and anti-LGBT violence today. The piece identifies five parallels: 1) the mundane quality of the violence; 2) the role of authorities; 3) the degree to which the success of marginalized groups motivates assault [that is, the role of know-your-place aggression]; 4) the lack of bias classification; and 5) the pervasiveness of sexualized attacks.
Keywords
marriage equality,
gay,
lesbian,
bisexual,
trangender,
violence,
activism
Publication Date
September, 2013
Citation Information
Koritha Mitchell. "Love in Action: Noting Similarities between Lynching Then & Anti-LGBT Violence Now"
Callaloo
Vol. 36 Iss. 3 (2013)
Available at: http://works.bepress.com/koritha_mitchell/16/