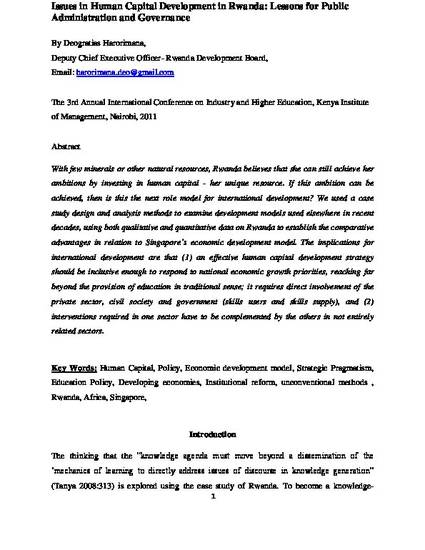 Article
Issues in Human Capital Development : Lessons for Public Administration and Governance
Conference Proceedings,Management University of Africa and Kenya Institute of Management (2011)
Abstract
With few minerals or other natural resources, Rwanda believes that she can still achieve her ambitions by investing in human capital - her unique resource. If this ambition can be achieved, then is this the next role model for international development? We used a case study design and analysis methods to examine development models used elsewhere in recent decades, using both qualitative and quantitative data on Rwanda to establish the comparative advantages in relation to Singapore's economic development model. The implications for international development are that (1) an effective human capital development strategy should be inclusive enough to respond to national economic growth priorities, reaching far beyond the provision of education in traditional sense; it requires direct involvement of the private sector, civil society and government (skills users and skills supply), and (2) interventions required in one sector have to be complemented by the others in not entirely related sectors.
Keywords
Human Capital,
Policy,
Economic development model,
Strategic Pragmatism,
Education Policy,
Developing economies,
Institutional reform,
unconventional methods,
Rwanda,
Africa,
Singapore
Publication Date
Summer October 4, 2011
Citation Information
Deogratias Harorimana. "Issues in Human Capital Development : Lessons for Public Administration and Governance"
Conference Proceedings,Management University of Africa and Kenya Institute of Management
Vol. 1 Iss. 1 (2011)
Available at: http://works.bepress.com/knowledgeispower/8/