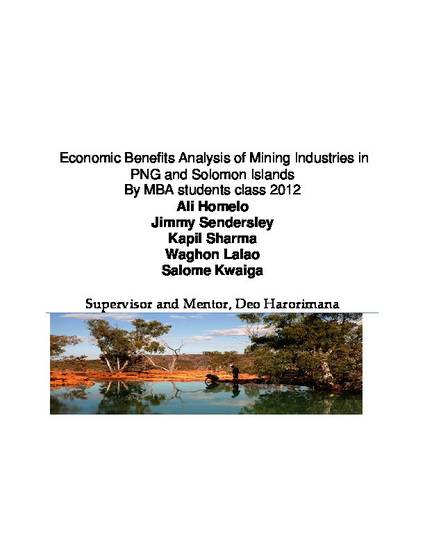 Unpublished Paper
Economic Benefits Analysis of Mining Industries in PNG and Solomon Islands
working paper series 003/2012 (2012)
Abstract
This paper discusses mining and mineral operations in the two countries Papua New Guinea and Solomon Islands with regards to its contribution to the overall Gross domestic Product and the economic development of each country.
Our finding shows that mining is an excellent contributor to economic growth and development as in the case of Papua New Guinea.Tax revenue from PNG Mining industries contributions to the PNG fiscal basket remains strong and growing steadily. The mining and minerals tax revenue remains an important contributor to the government fiscal budget over the last 10 years. This has been a strong contributor to the PNG government fiscal budget. It is anticipated that mining and mineral tax revenue will continue to grow and its proportion to PNG fiscal budget is likely to grow significantly in the coming years, boosted with LNG project tax revenue and other mining projects currently advanced in PNG.
However, though mining may bring positive impact to the economies of a country, if the government of the day does not have the right policies in place to address and deal with land ownership, waste management & disposal and other related social aspects of the industry, the repercussions are huge and can be damaging to both the resources owners, the mining companies, the government and the people related to mining industries.
The main objective of this paper is to try and determine if mining contributed to the local economic growth of a developing country such as SI and PNG and Identify what lessons can we or have been learnt from this. This paper will also highlight and identify policies with regards to issuing of licensing, exploration licenses, waste management & disposal, Tax & Royalty policies, relocation policy. Also we recommend a proper research should be done at the initial stages to address land tenure issues and relocation issues that mining can bring about to economic growth to a country.
Publication Date
April 27, 2012
Citation Information
Deogratias Harorimana. "Economic Benefits Analysis of Mining Industries in PNG and Solomon Islands"
working paper series 003/2012
(2012)
Available at: http://works.bepress.com/knowledgeispower/20/