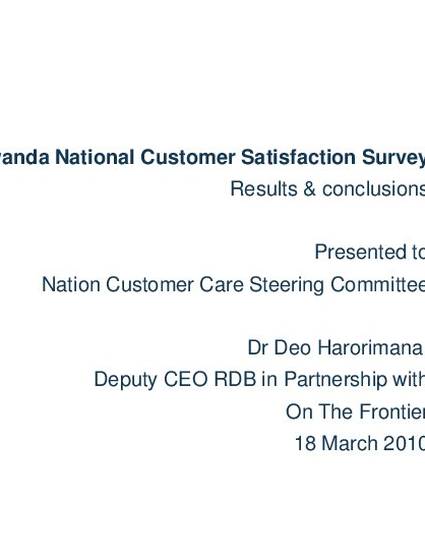 Presentation
Rwanda National Customer Satisfaction Survey: Results and conclusions
Rwanda Development Board (2010)
Abstract
It can be said that development practice requires more than financial and manpower inputs. Rwanda, in 1994 suffered a Genocide. The Society,collectively and under the leadership of His Excellence Paul Kagame the current elected President of Rwanda came together and designed strategies that would propel Rwanda to a Middle-Income, Private Sector Led Economy by the Year 2020.
In 2009, a client seating in one of the Hotels in a Suburb of Remera, in Kigali City, complained about poor service delivery he was experiencing from the waitress staff.Using his Blackberry message, the client forwarded an email to some of the RDB senior Executives who happened to be holding a meeting. RDB Executives,after deliberation, concluded to alert the Executive Office of the President. In no time, and collectively, the Government took a stand that , if Rwanda was to achieve her Vision, it was critical that , Service Delivery be considered and be given priority by everyone-In Government and Private Sector. The Government, in Partnership with the Private Sector initiated a Customer Care Campaign.
This study was conducted to serve as baseline for The National Strategy for Mindset Change,Customer Care and Service delivery in Rwanda. The research was designed under the hospice of the RDB, Study design and supervision of the implementation was under Deogratias Harorimana, The then, the Deputy Chief Executive Officer.
The input,advice from a Team from On The Frontier (OTF) is dully acknowledged.
Keywords
Service Delivery,
Customer Satisfaction,
Public Service,
Rwanda
Publication Date
Winter March 18, 2010
Citation Information
Deogratias Harorimana. "Rwanda National Customer Satisfaction Survey: Results and conclusions"
Rwanda Development Board
(2010)
Available at: http://works.bepress.com/knowledgeispower/14/