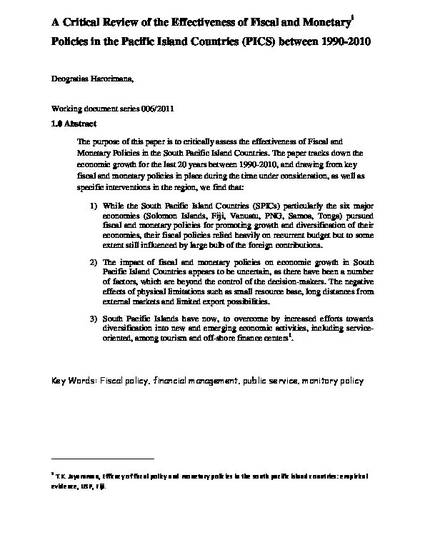 Unpublished Paper
A Critical Review of the Effectiveness of Fiscal and Monetary Policies in the Pacific Island Countries (PICS) between 1990-2010
006/2011 (2011)
Abstract
The purpose of this paper is to critically assess the effectiveness of Fiscal and Monetary Policies in the South Pacific Island Countries. The paper tracks down the economic growth for the last 20 years between 1990-2010, and drawing from key fiscal and monetary policies in place during the time under consideration, as well as specific interventions in the region, we find that: 1) While the South Pacific Island Countries (SPICs) particularly the six major economies (Solomon Islands, Fiji, Vanuatu, PNG, Samoa, Tonga) pursued fiscal and monetary policies for promoting growth and diversification of their economies, their fiscal policies relied heavily on recurrent budget but to some extent still influenced by large bulb of the foreign contributions. 2) The impact of fiscal and monetary policies on economic growth in South Pacific Island Countries appears to be uncertain, as there have been a number of factors, which are beyond the control of the decision-makers. The negative effects of physical limitations such as small resource base, long distances from external markets and limited export possibilities. 3) South Pacific Islands have now, to overcome by increased efforts towards diversification into new and emerging economic activities, including service-oriented, among tourism and off-shore finance centers .
Publication Date
October 19, 2011
Citation Information
Deogratias Harorimana. "A Critical Review of the Effectiveness of Fiscal and Monetary Policies in the Pacific Island Countries (PICS) between 1990-2010"
006/2011
(2011)
Available at: http://works.bepress.com/knowledgeispower/11/