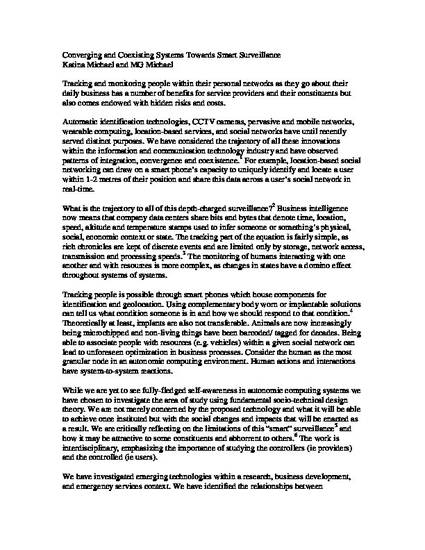 Unpublished Paper
Converging and coexisting systems towards smart surveillance
Awareness Magazine (Self-Awareness in Autonomic Systems): Networks & Infrastructure (2012)
Abstract
Tracking and monitoring people as they operate within their personal networks benefits service providers and their constituents but involves hidden risks and costs.
Automatic identification technologies, CCTV cameras, pervasive and mobile networks, wearable computing, location-based services and social networks have traditionally served distinct purposes. However, we have observed patterns of integration, convergence and coexistence among all these innovations within the information and communication technology industry.1For example, 'location-based social networking' can draw on a smart phone's capacity to identify a user uniquely, locate him within 1–2m and share this information across his social network in real time. The resulting ability to associate people with resources (e.g. vehicles) within a given social network can have unforeseen value in helping to optimize business and government processes.
Keywords
chip implants,
surveillance,
infrastructure,
smart,
networks,
convergence
Publication Date
June 19, 2012
Citation Information
Katina Michael and MG Michael. "Converging and coexisting systems towards smart surveillance"
Awareness Magazine (Self-Awareness in Autonomic Systems): Networks & Infrastructure
(2012)
Available at: http://works.bepress.com/kmichael/284/