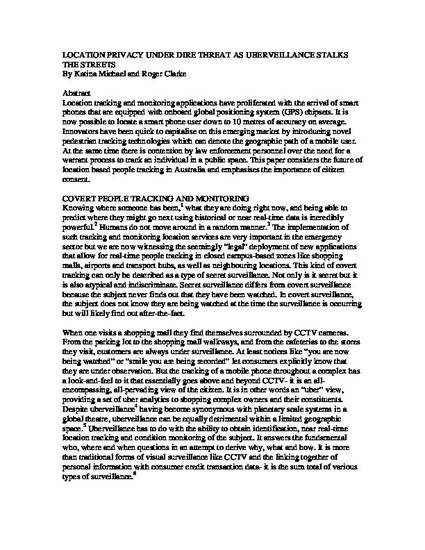 Article
Location Privacy Under Dire Threat As Uberveillance Stalks The Streets
Precedent (Focus on Privacy/FOI) (2012)
Abstract
Location tracking and monitoring applications have proliferated with the arrival of smart phones that are equipped with onboard global positioning system (GPS) chipsets. It is now possible to locate a smart phone user down to 10 metres of accuracy on average. Innovators have been quick to capitalise on this emerging market by introducing novel pedestrian tracking technologies which can denote the geographic path of a mobile user. At the same time there is contention by law enforcement personnel over the need for a warrant process to track an individual in a public space. This paper considers the future of location based people tracking in Australia and emphasises the importance of citizen consent.
Keywords
location,
tracking,
monitoring,
privacy,
law,
interception,
surveillance
Publication Date
January 1, 2012
Citation Information
Katina Michael and Roger Clarke. "Location Privacy Under Dire Threat As Uberveillance Stalks The Streets"
Precedent (Focus on Privacy/FOI)
Iss. 108 (2012)
Available at: http://works.bepress.com/kmichael/245/