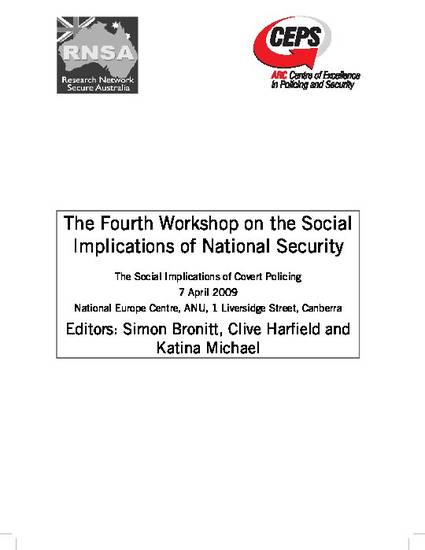 Book
The Social Implications of Covert Policing
(2010)
Abstract
Police agencies have been accused of suffering from an acute form of technophilia. Rather than representing some dreadful disorder, this assessment reflects the strong imperative, both in police agencies and the wider community, that police must have access to the latest technologies of surveillance and crime detection.
The last decade has witnessed the proliferation of low-cost surveillance technologies, some developed specifically for law enforcement purposes. Technology once the preserve of the military or secret intelligence agencies is now within the reach of ordinary general duties police officers. The new generation of police recruits is highly adept at using new technologies. Indeed, there is evidence that some police carry their own personal audio and video recorders and use them to provide independent evidence of 'difficult' interactions with citizens. Indeed, some jurisdictions are now trialling the use of miniaturised wearable point of view (POV) cameras attached to police officer's uniforms.
It is clear that advances in Information and Communication Technologies (ICT) enable the covert surveillance of people, property and spaces, both public and private. In many jurisdictions, police now require warrants or some form of independent authorisation to track and monitor suspects or places using surveillance devices. But the old adage that technology outstrips the law's capacity to regulate still remains true: each round of technological innovation poses a new range of social and legal challenges. Surveillance technologies generate concern about unjustified invasions of privacy and property; but there are also new threats to the fair trial, since the use of these technologies potentially circumvent the legal safeguards (such as the privilege against self incrimination) that may otherwise apply.
The modern trend seems to favour the statutory regulation of police powers. The expanded powers of telecommunications interception over the past three decades (which now extends to access to stored communications) are a case in point. However in many jurisdictions that the laws governing covert policing are patchy and in some areas completely unregulated. In the heightened climate of national security, human rights considerations tend to be sidelined, with law enforcement agencies gaining wide access to personal data such as mobile phone and Internet Service Provider (ISP) records. To preserve public confidence in the system and legitimacy, there is a need to maintain high levels of compliance with domestic legal requirements and international human rights standards.
It is important that police and policy-makers not lose sight that the use of new technology is not an end in itself, but rather simply a means to an end: namely, the prevention, detection and prosecution of crime. Infiltration of organised cross border criminal networks undoubtedly requires more sophisticated evidence-gathering techniques. These techniques include proactive policing operations using 'reverse stings' or controlled deliveries, as well as use of covert interviewing by undercover police and informers. In an era of increased international police cooperation across borders, there is a pressing need to explore how new law enforcement technologies and techniques may be more effectively coordinated and managed, while at the same time maintaining public confidence. The picture is not however universally bleak as new technology brings the potential for enhanced systems of regulation with a higher degree of transparency and accountability than previously possible, as exemplified by the introduction of audio-visual recording of police interviews and CCTV in police stations more generally.
This volume is based on a selection of papers presented at a workshop held in April 2009 at the ANU in Canberra. The workshop canvassed a wide range of topics addressing the application of covert surveillance techniques in policing and their social implications. Participants were drawn from a range of professions and disciplines including policing and intelligence studies; criminology and criminal justice; Information and Communication Technologies (ICT); law, ethics, human rights and public policy. As a group, participants recognised the need to equip law enforcement with the right tools for the job, though the corollary was the consensus that new and emerging technologies need to be regulated effectively. The discussion also underscored the importance of not limiting debate about reform to technical or technological perspectives. Wide normative concerns (drawn from a legal, human rights, public policy or ethical perspectives) must also be addressed.
The workshop and the resulting publication is an initiative supported by the Australian Research Council Centre for Excellence in Policing and Security (CEPS) and Research Network for a Secure Australia (RNSA), and the editors acknowledge their generous support for the workshop and publication.
Keywords
national security,
social implications,
emerging technologies,
warrants,
policing,
security,
privacy,
ethics,
accountability
Publication Date
December 31, 2010
Editor
Simon Bronnit, Clive Harfield, Katina Michael
Publisher
University of Wollongong Press with the Centre for Excellence in Policing and Security
Series
The Social Implications of National Security
Citation Information
Simon Bronitt, Clive Harfield and K. Michael. The Social Implications of Covert Policing. Wollongong, AustraliaVol. IV (2010)
Available at: http://works.bepress.com/kmichael/181/