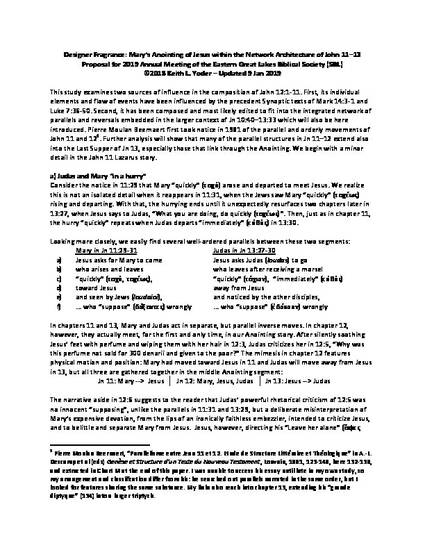 Presentation
Designer Fragrance: Mary's Anointing of Jesus within the Network Architecture of John 11–13
Eastern Great Lakes Biblical Society 2019 Annual Meeting (2019)
Abstract
This proposed presentation
examines two sources of influence in the composition of John 12:1-11. First, its individual elements and flow of events have been influenced by the precedent Synoptic texts of Mark 14:3-11 and Luke 7:36-50. Second, it has been composed and most likely edited to fit into an integrated network of parallels and reversals embedded in the larger context of John 10:40–13:33. Pierre Moulan Beernaert first noticed in 1981 the parallel and orderly movements of John 11 and 12. Analysis here will show that many of the parallel features in John 11–12 extend also into the Last Supper of John 13, especially those that link through the Anointing. The network structure supporting this literary triptych reveals that when John drew on Synoptic source texts for his Anointing, he moved all their emotion-laden elements to the interconnected network nodes in the adjoining narratives of chapters 11 and 13.
Keywords
Gospel of John,
Anointing,
Synoptics
Publication Date
Spring March 14, 2019
Citation Information
Keith L. Yoder. "Designer Fragrance: Mary's Anointing of Jesus within the Network Architecture of John 11–13"
Eastern Great Lakes Biblical Society 2019 Annual Meeting
(2019)
Available at: http://works.bepress.com/klyoder/48/