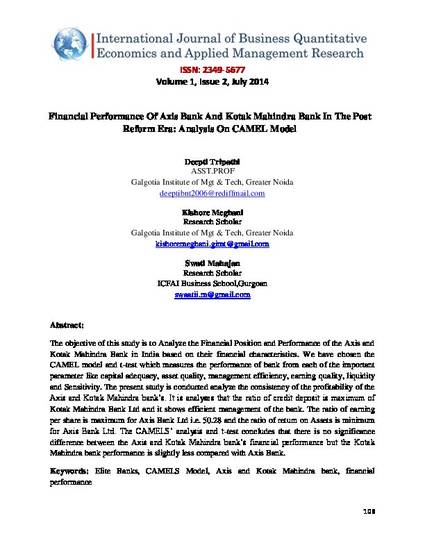 Unpublished Paper
Financial Performance Of Axis Bank And Kotak Mahindra Bank In The Post Reform Era: Analysis On CAMEL Model
Volume 1, Issue 2, July 2014 (2014)
Abstract
The objective of this study is to Analyze the Financial Position and Performance of the Axis and Kotak Mahindra Bank in India based on their financial characteristics. We have chosen the CAMEL model and t-test which measures the performance of bank from each of the important parameter like capital adequacy, asset quality, management efficiency, earning quality, liquidity and Sensitivity. The present study is conducted analyze the consistency of the profitability of the Axis and Kotak Mahindra bank's. It is analyses that the ratio of credit deposit is maximum of Kotak Mahindra Bank Ltd and it shows efficient management of the bank. The ratio of earning per share is maximum for Axis Bank Ltd i.e. 50.28 and the ratio of return on Assets is minimum for Axis Bank Ltd. The CAMELS' analysis and t-test concludes that there is no significance difference between the Axis and Kotak Mahindra bank's financial performance but the Kotak Mahindra bank performance is slightly less compared with Axis Bank.
Keywords
Elite Banks,
CAMELS Model,
Axis and Kotak Mahindra bank,
financial performance
Publication Date
July, 2014
Citation Information
kishore meghani. "Financial Performance Of Axis Bank And Kotak Mahindra Bank In The Post Reform Era: Analysis On CAMEL Model"
Volume 1, Issue 2, July 2014
(2014)
Available at: http://works.bepress.com/kishore_meghani/1/