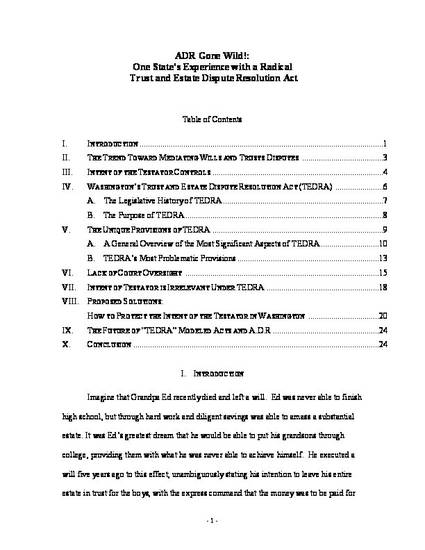 Unpublished Paper
ADR Gone Wild!: One State's Experience with a Radical Trust and Estate Dispute Resolution Act
ExpressO (2007)
Abstract
This paper explores one state's use of a radical alternative dispute resolution act in the area of wills and trusts. While the primary focus of this paper is to explore a unique Washington law –the Trust and Estate Dispute Resolution Act (TEDRA) – it is important to note that similar, if not identical sets of statutes exist in other states. TEDRA was passed in 1999 as a means for providing for mandatory alternative dispute resolution in the area of trusts and estates, namely mediation, arbitration, or private agreement between the parties. Recently, Idaho passed a nearly identical Act and these provisions have the potential to have mass appeal in other jurisdictions.
This paper provides an overview of the central provisions of TEDRA as they impact the intent of the testator or settlor and also presents a brief outline of the issue and problems which may arise from the application of TEDRA. TEDRA is a truly fascinating example of one state legislature's radical use of Alternative Dispute Resolution (ADR), allowing interested persons to come to private agreements, outside of any court supervision, and essentially rewrite the will or trust in order to come to a distribution they find satisfactory. In doing so, the parties are allowed to undo expensive estate plans and violate the intent of the testator, which has always been a highly valued and fundamental element of testamentary freedom. Despite the benefits to using ADR in probate matters, this article plays the devil's advocate to expose the fact that where states have gone to the extreme and adopted innovative and expansive ADR statutes, flaws in drafting potentially allow unintended results for the estate of a decedent and allow frustration of the original intent of the testator. Overall, these unintended consequences can have a negative impact in the area of trust and estate litigation as well as estate planning. This paper concludes with proposed solutions to protecting the intent of the testator and mitigating against extreme ADR provisions.
Keywords
Trusts and Estates,
Probate,
Alternative Dispute Resolution,
Elder Law,
TEDRA,
Mediation,
Arbitration
Publication Date
February, 2007
Citation Information
Kirsten M Elliott. "ADR Gone Wild!: One State's Experience with a Radical Trust and Estate Dispute Resolution Act"
ExpressO
(2007)
Available at: http://works.bepress.com/kirsten_elliott/1/