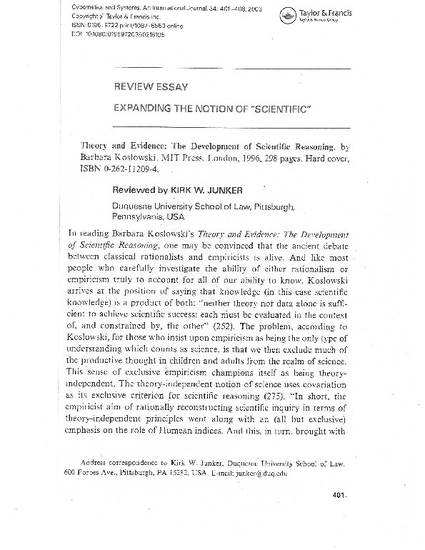 Article
Expanding the notion of "scientific"
Cybernatics and Systems: An International Journal (2003)
Abstract
In reading Barbara Koslowski's Theory and Evidence: The Development of Scientific Reasoning, one may be convinced that the ancient debate between classical rationalists and empiricists is alive. And like most people who carefully investigate the ability of either rationalism or empiricism truly to account for all of our ability to know, Koslowski arrives at the position of saying that knowledge (in this case scientific knowledge) is a product of both: "neither theory nor data alone is sufficient to achieve scientific success; each must be evaluated in the context of, and constrained by, the other" (252). The problem, according to Koslowski, for those who insist upon empiricism as being the only type of understanding which counts as science, is that we then exclude..
Keywords
Scientific Reasoning,
Scientific Knowledge
Publication Date
Summer June, 2003
DOI
10.1080/01969720390216195
Citation Information
Kirk W. Junker. "Expanding the notion of "scientific""
Cybernatics and Systems: An International Journal
Vol. 34 (2003) p. 401 - 408 ISSN: 0196-9722
Available at: http://works.bepress.com/kirk_junker/44/