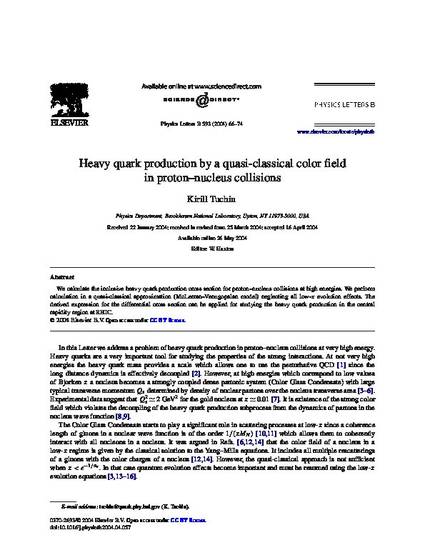 Article
Heavy quark production by a quasi-classical color field in proton-nucleus collisions
Physics Letters, Section B (2004)
Abstract
We calculate the inclusive heavy quark production cross section for proton-nucleus collisions at high energies. We perform calculation in a quasi-classical approximation (McLerran-Venugopalan model) neglecting all low-x evolution effects. The derived expression for the differential cross section can be applied for studying the heavy quark production in the central rapidity region at RHIC.
Keywords
proton,
article,
calculation,
energy transfer,
model,
nuclear energy,
nuclear physics,
productivity,
quantum yield,
quark
Citation Information
Kirill Tuchin. "Heavy quark production by a quasi-classical color field in proton-nucleus collisions"
Physics Letters, Section B
Vol. 593 Iss. 1-4 (2004)
Available at: http://works.bepress.com/kirill_tuchin/7/