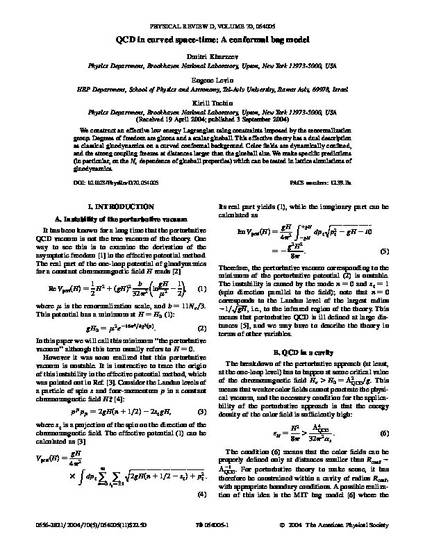 Article
QCD in curved space-time: A conformal bag model
Physical Review D (2004)
Abstract
We construct an effective low energy Lagrangian using constraints imposed by the renormalization group. Degrees of freedom are gluons and a scalar glueball. This effective theory has a dual description as classical gluodynamics on a curved conformal background. Color fields are dynamically confined, and the strong coupling freezes at distances larger than the glueball size. We make specific predictions (in particular, on the Nc dependence of glueball properties) which can be tested in lattice simulations of gluodynamics.
Keywords
article,
circular dichroism,
color,
conformation,
energy,
gluon,
prediction,
quantum chemistry,
structure analysis,
theoretical study
Citation Information
Dmitri Kharzeev, Eugene Levin and Kirill Tuchin. "QCD in curved space-time: A conformal bag model"
Physical Review D
Vol. 70 Iss. 5 (2004)
Available at: http://works.bepress.com/kirill_tuchin/6/