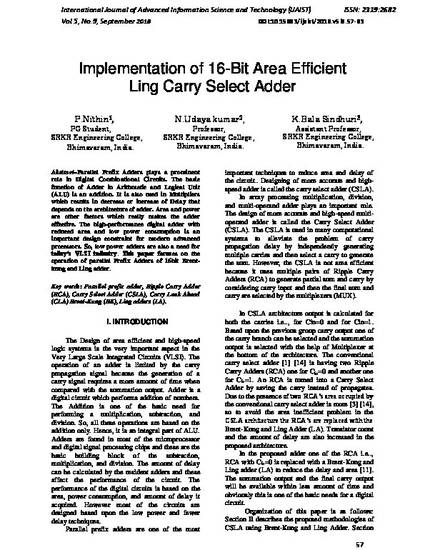 Article
Implementation of 16-Bit Area Efficient Ling Carry Select Adder
International Journal of Advanced Information Science and Technology (2016)
Abstract
Parallel Prefix Adders plays a prominent role in Digital Combinational Circuits. The basic function of Adder in Arithmetic and Logical Unit (ALU) is an addition. It is also used in Multipliers which results in decrease or increase of Delay that depends on the architecture of adder. Area and power are other factors which really makes the adder effective. The high-performance digital adder with reduced area and low power consumption is an important design constraint for modern advanced processors. So, low power adders are also a need for today's VLSI industry. This paper focuses on the operation of parallel Prefix Adders of 16bit Brent-kung and Ling adder.
Keywords
Parallel prefix adder,
Ripple Carry Adder (RCA),
Carry Select Adder (CSLA),
Carry Look Ahead (CLA) Brent-Kung (BK),
Ling adders (LA)
Publication Date
Spring September 26, 2016
DOI
10.15693/ijaist/2016.v5i9.57-63
Citation Information
P. Nithin, N. Udaya kumar and K. Bala Sindhuri. "Implementation of 16-Bit Area Efficient Ling Carry Select Adder"
International Journal of Advanced Information Science and Technology
Vol. 5 Iss. 9 (2016) p. 57 - 63 ISSN: 2319-2682
Available at: http://works.bepress.com/kiratpalsingh/77/
Creative Commons license
This work is licensed under a Creative Commons CC_BY-NC International License.