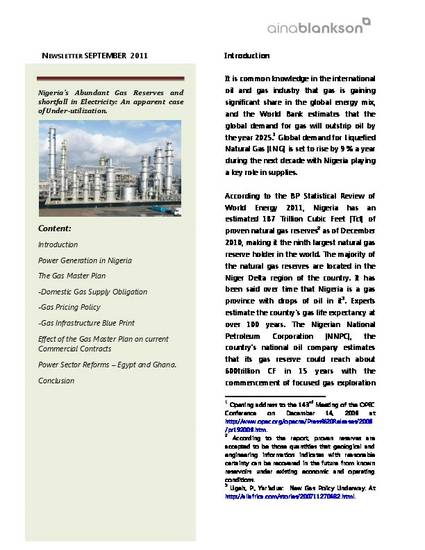 Article
Nigeria's abundant gas reserves and shortfall in electricity: An apparent case of under-utilization
Newsletter (2011)
Abstract
It is common knowledge in the international oil and gas industry that gas is gaining significant share in the global energy mix, and the World Bank estimates that the global demand for gas will outstrip oil by the year 2025. Global demand for Liquefied Natural Gas (LNG) is set to rise by 9 % a year during the next decade with Nigeria playing a key role in supplies. According to the BP Statistical Review of World Energy 2011, Nigeria has an estimated 187 Trillion Cubic Feet (Tcf) of proven natural gas reserves as of December 2010, making it the ninth largest natural gas reserve holder in the world. The majority of the natural gas reserves are located in the Niger Delta region of the country. It has been said over time that Nigeria is a gas province with drops of oil in it . Experts estimate the country's gas life expectancy at over 100 years. The Nigerian National Petroleum Corporation (NNPC), the country's national oil company estimates that its gas reserve could reach about 600trillion CF in 15 years with the commencement of focused gas exploration processes . Presently however, due to limited infrastructure, the sector has been largely undeveloped. In 2010, excluding flared or recycled gas, natural gas production was 30.3 Billion Cubic Metres (Bcu) representing just 1.1% of total world production.
Publication Date
Winter September 1, 2011
Citation Information
Kingsley Sawyerr. "Nigeria's abundant gas reserves and shortfall in electricity: An apparent case of under-utilization"
Newsletter
(2011)
Available at: http://works.bepress.com/kingsleysawyerr/1/