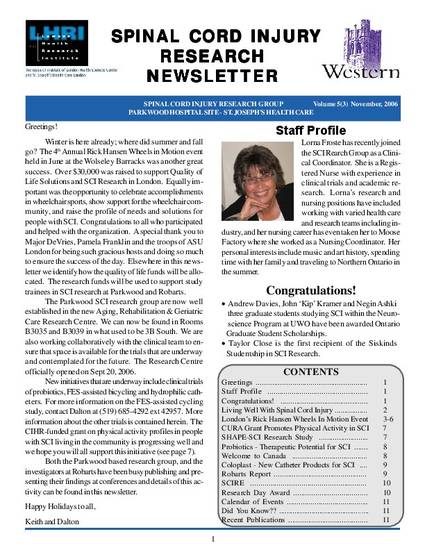 Article
PROBIOTICS: THERAPEUTIC POTENTIAL FOR PEOPLE WITH SPINAL CORD INJURY (SCI)
SPINAL CORD INJURY RESEARCH NEWSLETTER (2006)
Abstract
The recent increased interest in probiotics "Live microorganism which, when administered in adequate amounts, confer a health benefit on the host", has not yet translated into specific products for hospitalized or spinal cord injured (SCI) patients in Canada. Europeans have more access to clinically proven products, such as Proviva, a Lactobacillus plantarum 299V containing milk drink which when given with oat fibres, has been shown to reduce infections in seriously ill surgical patients. For applications to SCI patients, several options could either be tested now or applied in the future. There are good data on the anti-inflammatory effects of probiotic strains, such as L. rhamnosus GR-1 and the 8 strain product VSL#3. Inflammatory processes affect SCI patients in the immediate post-injury period as a healing reaction, as well as later on in rehabilitation where it may interfere with signaling along the cord. Consideration should be given to applying probiotics conjointly with standard treatment at these two stages. Asymptomatic bacteriuria and urinary tract infections are very common (>70%) in SCI patients, invariably induced through the use of catheters.
Keywords
probiotics,
urinary tract infections,
spinal cord injury
Publication Date
November, 2006
Citation Information
Kingsley C Anukam. "PROBIOTICS: THERAPEUTIC POTENTIAL FOR PEOPLE WITH SPINAL CORD INJURY (SCI)"
SPINAL CORD INJURY RESEARCH NEWSLETTER
Vol. 5 Iss. 3 (2006)
Available at: http://works.bepress.com/kingsley_anukam/14/