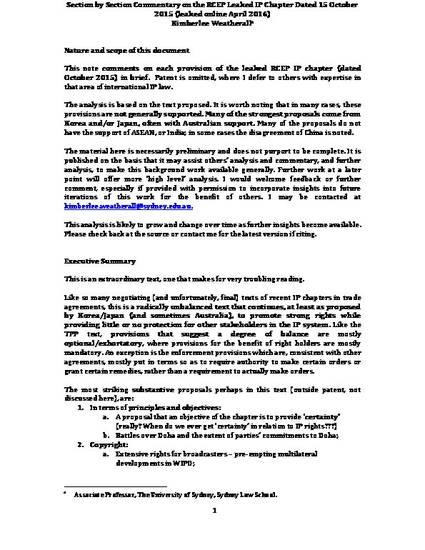 Unpublished Paper
RCEP IP Chapter Leaked 15 Oct 2015 - Weatherall Section by Section Comments in Brief.pdf
Working Paper (2016)
Abstract
This note comments on each provision of the leaked RCEP IP chapter (dated October 2015) in brief.  Patent is omitted, where I defer to others with expertise in that area of international IP law.  It argues that like so many negotiating (and unfortunately, final) texts of recent IP chapters in trade agreements, there are proposals here that would, if adopted, constitute a radically unbalanced text promoting strong rights while providing little or no protection for other stakeholders in the IP system. Like the TPP text, provisions that suggest a degree of balance are mostly optional/exhortatory, where provisions for the benefit of right holders are mostly mandatory. An exception is the enforcement provisions which are, consistent with other agreements, mostly put in terms so as to require authority to make certain orders or grant certain remedies, rather than a requirement to actually make orders.
Keywords
intellectual property,
international trade,
enforcement
Publication Date
April, 2016
Citation Information
Kimberlee G Weatherall. "RCEP IP Chapter Leaked 15 Oct 2015 - Weatherall Section by Section Comments in Brief.pdf"
Working Paper
(2016)
Available at: http://works.bepress.com/kimweatherall/35/
Creative Commons License
This work is licensed under a Creative Commons CC_BY-NC-ND International License.