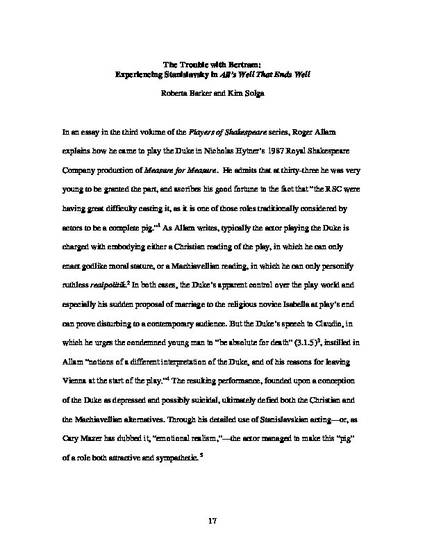 Contribution to Book
Experiencing Stanislavsky in All's Well That Ends Well
Shakespeare and Realism: On the Politics of Style (2018)
Abstract
All's Well That Ends Well is a problem of a play, and its hero, Bertram, is a bigger problem yet. Actors have often worked to make sense of this oddity of a character using Stanislavskian techniques, specifically "emotional realism", in order to create a Bertram that is relatable and believable, even though he's actually a fiction from a fairy tale. In this chapter we examine this approach critically in order to understand how the Stanislavsky Solution to the Bertram Problem can have a knock-on effect for the representation of the play's female characters, creating obstacles to understanding for contemporary spectators, and reinforcing unhelpful binary gender modalities.
Keywords
Shakespeare,
gender,
Stanislavsky,
realism
Editor
Peter Lichtenfels and Josy Miller
Publisher
Fairleigh-Dickinson UP
Citation Information
Kim Solga and Roberta Barker. "Experiencing Stanislavsky in All's Well That Ends Well"
Shakespeare and Realism: On the Politics of Style
(2018)
Available at: http://works.bepress.com/kimsolga/49/