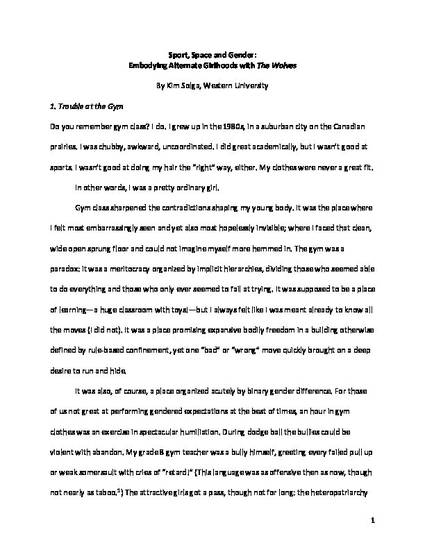 Contribution to Book
Sport, Space and Gender: Embodying Alternate Girlhoods with The Wolves
Sports Plays (2021)
Abstract
What does it mean to throw like a girl? If we empower girls to throw – and to kick, to jump, to fly through the air like never before – how does that space-making impact the humans into which they grow? Does staging girls at sport help us to understand sport as a space-making activity every girls needs, and to which every girl has a right? This article reflects on the Pulitzer Prize-winning play The Wolves as it explores the relationship between the practice of sport and the practice of gender.
Publication Date
August, 2021
Editor
Eero Laine, Broderick Chow
Citation Information
Kim Solga. "Sport, Space and Gender: Embodying Alternate Girlhoods with The Wolves"
Sports Plays
(2021)
Available at: http://works.bepress.com/kimsolga/48/