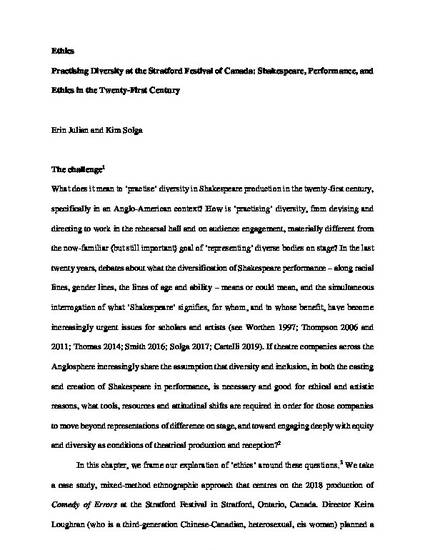 Contribution to Book
Practising Diversity at the Stratford Festival of Canada: Shakespeare, Performance and Ethics in the Twenty-First Century
The Arden Research Handbook of Shakespeare and Contemporary Performance (2021)
Abstract
What does it mean to 'practise' diversity in Shakespeare production in the twenty-first century, specifically in an Anglo-American context? How is 'practising' diversity, from devising and directing to work in the rehearsal hall and on audience engagement, materially different from the now-familiar (but still important) goal of 'representing' diverse bodies on stage? In the last twenty years, debates about what the diversification of Shakespeare performance – along racial lines, gender lines, the lines of age and ability – means or could mean, and the simultaneous interrogation of what 'Shakespeare' signifies, for whom, and to whose benefit, have become increasingly urgent issues for scholars and artists. If theatre companies across the Anglosphere increasingly share the assumption that diversity and inclusion, in both the casting and creation of Shakespeare in performance, is necessary and good for ethical and artistic reasons, what tools, resources and attitudinal shifts are required in order for those companies to move beyond representations of difference on stage, and toward engaging deeply with equity and diversity as conditions of theatrical production and reception?
Keywords
Shakespeare,
diversity and inclusion,
Stratford festival,
ethics
Editor
Peter Kirwin, Kathryn Prince
Series
Arden Research Handbooks
Citation Information
Kim Solga and Erin Julian. "Practising Diversity at the Stratford Festival of Canada: Shakespeare, Performance and Ethics in the Twenty-First Century"
The Arden Research Handbook of Shakespeare and Contemporary Performance
(2021)
Available at: http://works.bepress.com/kimsolga/45/