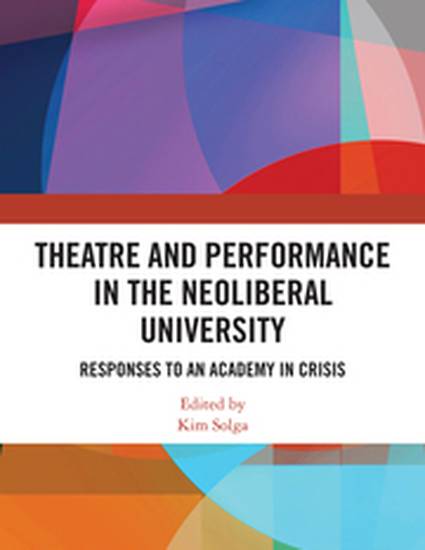 Book
Theatre and Performance in the Neoliberal University: Responses to an Academy in Crisis
(2020)
Abstract
Exploring how educators and institutions might embrace the STEAM turn to ensure that theatre and performance can be instrumental to the neoliberal university, without being instrumentalizedby it, this volume showcases alternative models for teaching and learning in theatre and performance in a neoliberal age.
Originally a special issue of Research in Drama Education, this volume foregrounds the above ideas in six principal articles, and provides a range of potential models for change in twelve case study discussions. Detailing a variety of 'best practices' in theatre and performance education, contributors demonstrate how postsecondary educators around the world have recentred drama and performance by collaborating with STEM-side faculty, using theatre principles to frame and support interdisciplinary learning, and working toward important applications beyond the classroom. Arguing that the neoliberal university needs theatre and performance more than ever, this valuable collection emphasizes the critical contribution which these subjects continue to make to the development of students, staff, and institutions.
This book will be of particular interest to students, researchers, and librarians in the fields of Theatre Studies, Performance Studies, Applied Theatre, Drama in Education, and Holistic Education.
Keywords
Higher education,
theatre studies,
performance studies,
neoliberalism
Citation Information
Kim Solga. Theatre and Performance in the Neoliberal University: Responses to an Academy in Crisis. (2020)
Available at: http://works.bepress.com/kimsolga/43/