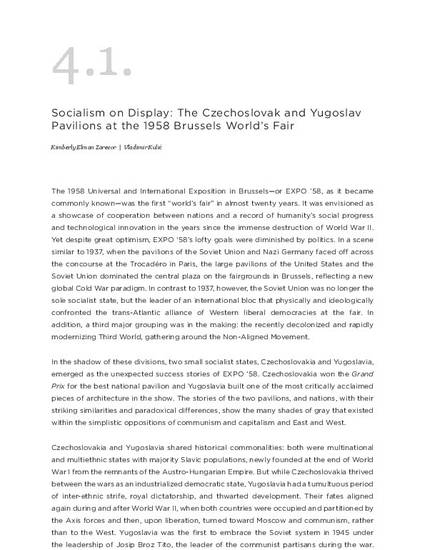 Contribution to Book
Socialism on Display: The Czechoslovak and Yugoslavian Pavilions at the 1958 Brussels World's Fair
Meet Me at the Fair: A World's Fair Reader
Document Type
Book Chapter
Publication Date
1-1-2014
Abstract
The 1958 Universal and International Exposition in Brussels—or EXPO '58, as it became commonly known—was the first "world's fair" in almost twenty years. It was envisioned as a showcase of cooperation between nations and a record of humanity's social progress and technological innovation in the years since the immense destruction of World War II. Yet despite great optimism, EXPO '58's lofty goals were diminished by politics. In a scene similar to 1937, when the pavilions of the Soviet Union and Nazi Germany faced off across the concourse at the Trocadéro in Paris, the large pavilions of the United States and the Soviet Union dominated the central plaza on the fairgrounds in Brussels, reflecting a new global Cold War paradigm. In contrast to 1937, however, the Soviet Union was no longer the sole socialist state, but the leader of an international bloc that physically and ideologically confronted the trans-Atlantic alliance of Western liberal democracies at the fair. In addition, a third major grouping was in the making: the recently decolonized and rapidly modernizing Third World, gathering around the Non-Aligned Movement.
Rights
This work is licensed under a Creative Commons Attribution-NonCommercial-No Derivative Works 2.5 License
Copyright Owner
Laura Hollengreen, Celia Pearce, Rebecca Rouse, Bobby Schweizer and ETC Press
File Format
application/pdf
Citation Information
Kimberly E. Zarecor and Vladimir Kulić. "Socialism on Display: The Czechoslovak and Yugoslavian Pavilions at the 1958 Brussels World's Fair"
Meet Me at the Fair: A World's Fair Reader
(2014) p. 225 - 239
Available at: http://works.bepress.com/kimberly_zarecor/11/