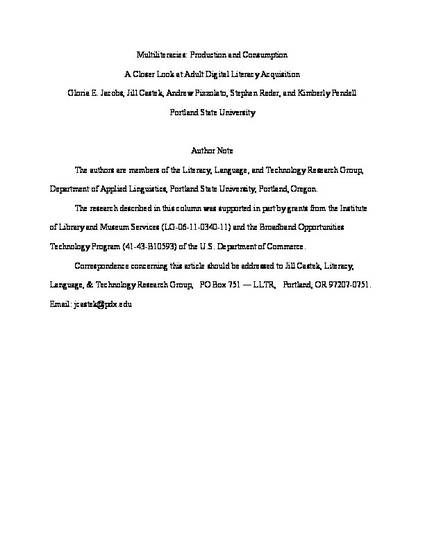 Article
Production and Consumption: A Closer Look at Adult Digital Literacy Acquisition
Presentations and Publications
Sponsor
The research described in this column was supported in part by grants from the Institute of Library and Museum Services (LG-06-11-0340-11) and the Broadband Opportunities Technology Program (41-43-B10593) of the U.S. Department of Commerce.
Publication Date
4-1-2014
Subjects
Information literacy,
Computer-assisted instruction,
Digital divide -- United States -- Case studies
Abstract
In this column, the authors discuss emerging research in the field of adult digital literacy acquisition. The authors argue that the field of adult digital literacy acquisition has been under researched, especially in relation to multiliteracies and multimodal literacy practices. Data emerging from a large scale mixed methods study of adults engaged with Learner Web, a selfaccess online learning system, indicate that opportunities to engage in tutor-facilitated digital literacy acquisition, among populations that have been historically left out of the digital revolution, has the potential to change lives. Additionally, the research provides insights into the shifts learners undergo as they gain experience and confidence with digital tools, which can help educators develop more robust systems for supporting vulnerable learners who are outside of the traditional educational system.
Persistent Identifier
http://archives.pdx.edu/ds/psu/15422
Citation Information
Jacobs, Gloria; Castek, Jill; Pizzolato, Drew; Reder, Stephen; and Pendell, Kimberly D., "Production and Consumption: A Closer Look at Adult Digital Literacy Acquisition" (2014). http://archives.pdx.edu/ds/psu/15422