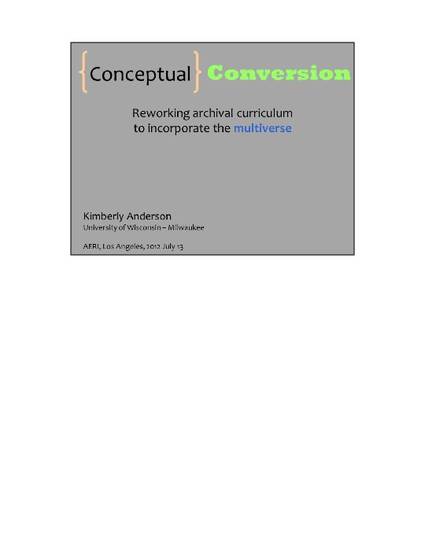 Presentation
(Conceptual) Conversion: Reworking Archival Curriculum to Incorporate the Multiverse
Archival Education and Research Institute (2012)
Abstract
http://aeri2012.wordpress.com/conference-schedule/workshops/pedagogical-approaches-in-a-conceptually-based-curriculum/
Kimberly Anderson will share her experience of transforming a class on archival outreach at the University of Wisconsin-Milwaukee. The fully online course, "Archival Outreach: Programs and Services" was re-worked into conceptual modules that formed the underpinning for the class. These concepts were reinforced throughout the semester and students were asked to use them as a framing throughout the discussion and applied activities. The resultant class was a dramatic departure from the both the previous iterations of the course and the way in which other courses in the archives program are taught, which have previously focused heavily on practices. Dr. Anderson will report on the process of teaching via concepts and share student feedback about course design.
Publication Date
July 13, 2012
Citation Information
Kimberly D. Anderson. "(Conceptual) Conversion: Reworking Archival Curriculum to Incorporate the Multiverse"
Archival Education and Research Institute
(2012)
Available at: http://works.bepress.com/kimberly_anderson/6/