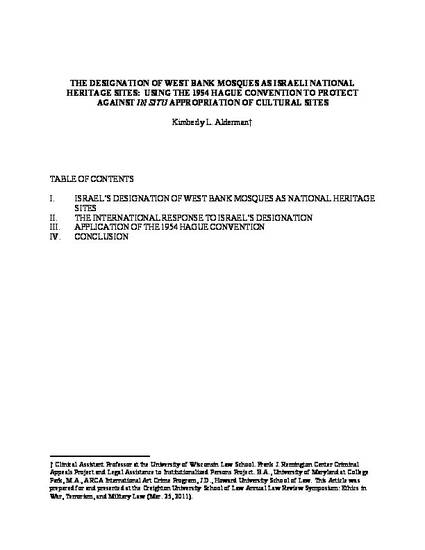 Article
The Designation of West Bank Mosques as Israeli National Heritage Sites: Using the 1954 Hague Convention to Protect Against in Situ Cultural Appropriation
Creighton Law Review (2011)
Abstract
This Article considers whether the 1954 Hague Convention for the Protection of Cultural Property in the Event of Armed Conflict ("1954 Hague Convention") should extend to protect against in situ appropriation of culturally significant sites. This Article examines the text and spirit of the 1954 Hague Convention, and inquires whether the 1954 Hague Convention imposes an obligation on its Signing Parties to protect not just the physical integrity of culturally significant sites, but also the relationship of local peoples with those sites. This Article uses the recent dispute over the Ibrahimi and Bilal Bin Rabah Mosques (also called the Cave of Machpelah and Rachel's Tomb, respectively) on the Palestinian West Bank as a lens through which to make this inquiry.
Citation Information
Kimberly L. Alderman. "The Designation of West Bank Mosques as Israeli National Heritage Sites: Using the 1954 Hague Convention to Protect Against in Situ Cultural Appropriation"
Creighton Law Review
Vol. 44 (2011)
Available at: http://works.bepress.com/kimberly_alderman/7/