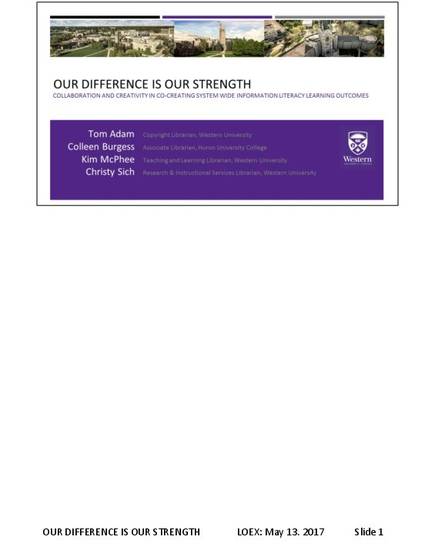 Presentation
Our Difference is Our Strength: Collaboration and Creativity in Co-Creating System Wide Information Literacy Learning Outcomes
Western Libraries Presentations
Document Type
Presentation
Publication Date
5-13-2017
Abstract
As instruction librarians, we find ourselves siloed from our fellow teaching librarians and faculty in the design, delivery, and assessment of our instruction. We persevere in adopting a creative lens when asked to teach specific skills within limited time frames, we negotiate for more time with our students to engage in higher order thinking about research and Information Literacy (IL), and we attempt to convince faculty to allow us a sliver of a grade percentage to reinforce the value of the assignments we employ in-session. At Western Libraries we are attempting to switch this reactive stance we've often found ourselves in as instruction librarians supporting pre-developed courses by co-creating a set of system-wide learning outcomes (LOs) informed and inspired by the ACRL's respective Framework and Standards documents, Ontario's Undergraduate Degree Level Expectations, as well as our institution's own undergraduate wide LOs. Drawing upon our differences and collective creativity, Western Librarians and those of the affiliated colleges have engaged in a collaborative consultative process in writing these LOs and wish to share our best practices that can be applied in a similar process at your home institution. In this session, members of the project team will discuss the process of developing a shared understanding of IL across a diverse system of instructing librarians, the challenges of collaboration with a large and diverse group of colleagues in the development of core LOs relevant across STEM, Health Sciences, A&H, SS, and Fine Arts programs of study, and the value of the document as a tool to leverage for more meaningful librarian/faculty teaching collaborations.
Participants will:
be able to understand and discuss the importance of embracing a complex process in order to invite diverse and dissenting voices to collaborate on the development of institutional IL learning outcomes.
in light of the best practices shared, reflect on and articulate the opportunities and challenges of pursuing a similar process at their home institution.
Creative Commons License
Creative Commons Attribution-Share Alike 4.0
Citation Information
Tom Adam, Colleen A Burgess, Kim McPhee and Christy Sich. "Our Difference is Our Strength: Collaboration and Creativity in Co-Creating System Wide Information Literacy Learning Outcomes" (2017)
Available at: http://works.bepress.com/kim_mcphee/9/