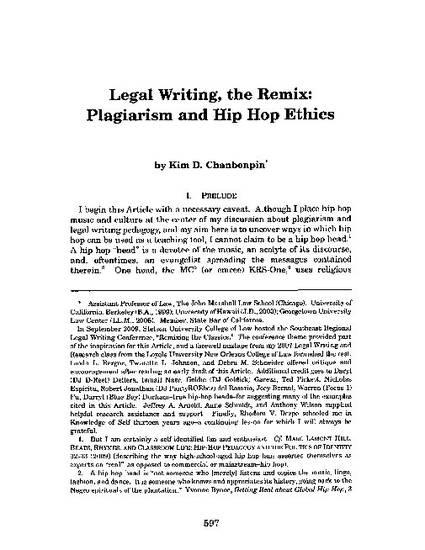 Article
Legal Writing, the Remix: Plagiarism and Hip Hop Ethics, 63 Mercer L. Rev. 597 (2012)
UIC Law Open Access Faculty Scholarship
Publication Date
1-1-2012
Abstract
In this Article, I focus on hip hop music and culture as an access point to teach first-year law students about the academic and professional pitfalls of plagiarism. Hip hop provides a good model for comparison because most entering students are immersed in a popular culture that is saturated with allusions to hip hop. As a point of reference for incoming law students, hip hop possesses a valuable currency as it represents something real, experienced, and relatable.
Significant parallels exist between the cultures of United States legal writing and hip hop, although attempting direct analogies would be absurd. Chief among these similarities is the reliance of both cultures on an archive of knowledge, borrowing from which authors or artists build credibility and authority. Whether it is from case law or musical recordings, the necessary dependence on a finite store of information means that the past work of others will be frequently incorporated into new work. The ethical and professional danger inherent in this type of production is that one who borrows too freely from the past may be merely copying instead of interpreting or innovating. In the academic world, this is plagiarism. Members of the hip hop community call this "biting." In neither culture is this mode of production celebrated.
My goals for this project are two-fold. First, as a professor of legal writing, I want to ameliorate the problem of plagiarism that I have seen growing worse each year. Second, as a scholar, I would like to contribute to the growing body of literature on hip hop and the law. This Article marks the beginning of my attempt to theorize a hip hop ethic and develop its application to the teaching, the academic study, and perhaps eventually, the reform of the law.
In Part II, I set out by providing preliminary definitions for the terminology used in this Article. I describe the key term, "plagiarism," and identify three types of the offense that occur frequently in the legal writing classroom. In doing so, I also provide cases demonstrating that plagiarism in the academic setting is not without adverse consequences in law practice. Next, I assert that hip hop music is based in a tradition of borrowing from prior works. The custom of borrowing, as in the use of samples and the creation of mixtapes, is not completely unrestricted, however. Hip hop maintains an internal system of regulation, guided by the principle of "no biting."
Part III is a comparative analysis of the shared and divergent values of the legal writing and hip hop cultures. Social constructivist composition theorists frame the writing process in terms of a writer's relationship to language using groups or "discourse communities." As a discrete discourse community, hip hop incorporates a citation system that is certainly distinct from, but that is also comparable to, the system of citation that lawyers use. Drawing on the work of social constructivists, I argue here that by studying hip hop as a comparative citation system, professors can facilitate a law student's acculturation to an insider's position in legal writing and also help students avoid the pitfalls of plagiarism.
Part III also aims to reconcile the two seemingly oppositional value systems of hip hop and legal writing. I suggest that the objectives of good hip hop music and good legal writing are similar. In both forms of production original thought and innovative analysis are celebrated and rewarded. Consumers of these products value an active (versus passive) exchange between original formats and remixes. Part IV concludes.
Citation Information
Kim D. Chanbonpin, Legal Writing, the Remix: Plagiarism and Hip Hop Ethics, 63 Mercer L. Rev. 597 (2012).